Actions and Detail Panel
IMAGINE Conference: Harm Reduction and Addictions
Sun, April 30, 2017, 9:30 AM – 5:00 PM EDT
Description
Interprofessional Medical and Allied Groups for Improving Neighbourhood Environment (IMAGINE) is an interprofessional, student-run community health initiative aimed at promoting and providing healthcare to the core neighbourhoods of downtown Toronto. Our conference this year is focusing on addictions and harm reduction, with the goal of providing a nuanced understanding of the social determinants embodied in issues of addiction, including the intersectionality of colonialism, racism, and poverty, as well as a theoretical and practical overview of treatment. Conference attendees will hear from users, frontline workers, health advocates, and activists on a variety of issues relating to addiction and harm reduction. Attendees are also able to receive an IPE credit for their attendance. Our keynote speaker this year is Zoe Dodd from the South Riverdale Community Health Centre, a frontline worker who has been involved in improving Toronto's harm reduction strategies including safe injection sites.
Please e-mail imagine.advocacy@gmail.com if the conference fee is a barrier to your attendance or if you have any accessibility concerns, suggestions, or requirements.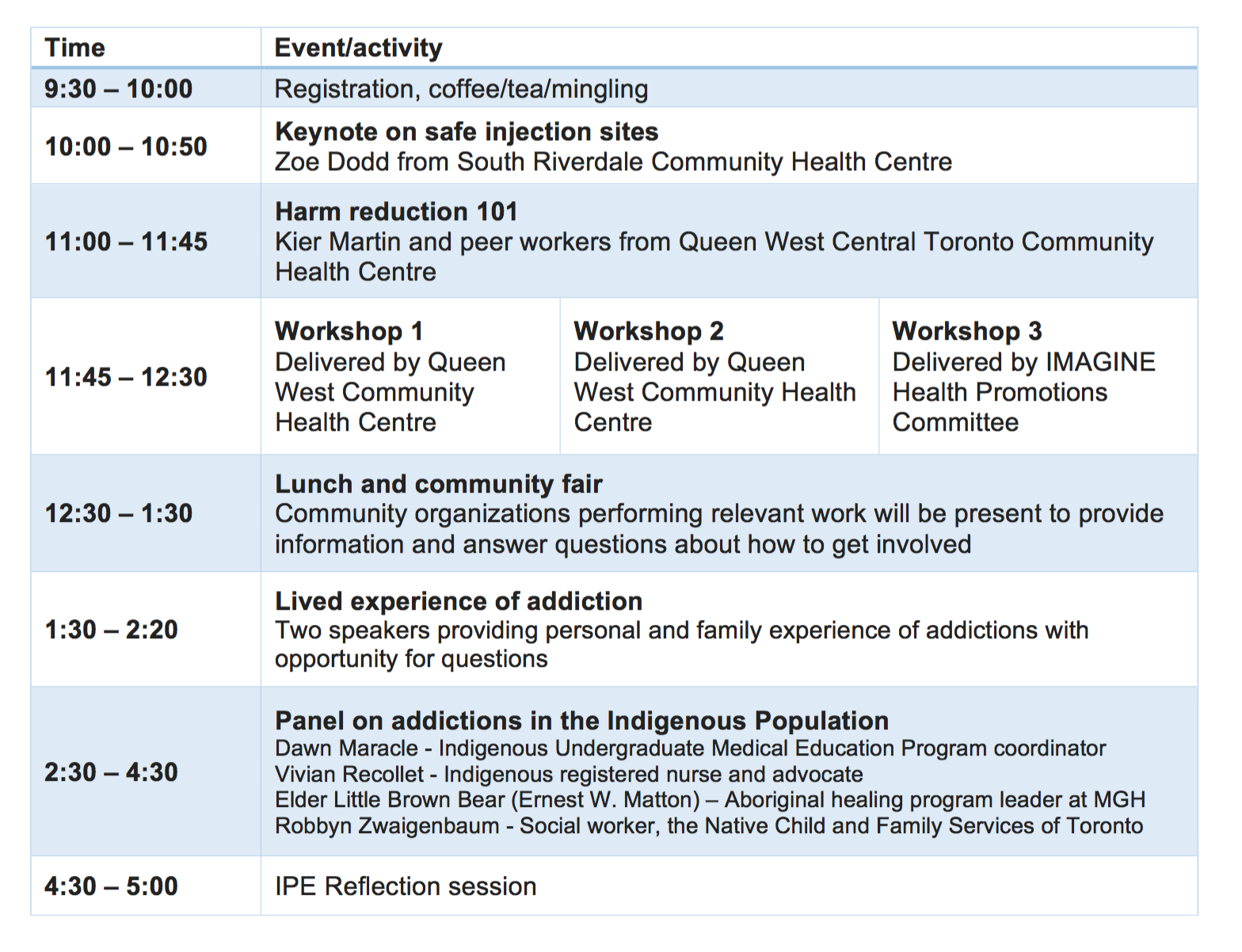 Access info:
The Medical Sciences building is a barrier free space. Wheelchair accessible entrances are located at the College Street entrance and the King's College Road entrance. Please enter through the King's College entrance to find the registration table. Signs will be posting directing you to the workshop/panel rooms. There is an elevator to access the third floor. Doors leading from the elevator are not push button operated but volunteers can assist in opening them.
The washrooms on the second and third floor (where the events will be held) will be converted into gender neutral washrooms and signs will be posting indicating this. Unfortunately, this building does not have single stall gender neutral washrooms. If this is a concern for you and may impact your attendance, volunteers of the conference could assist you in accessing single stall gender neutral washrooms across the street in the Health Sciences Building.
A childminding space in the Medical Sciences lounge will be available. Please fill out the registration at the link below to let us know if you will be making use of the childminding.
We are booking ASL-English Interpretation. Please let us know by April 23rd if you will utilize the ASL Interpretation services, and which events you would want Interpretation to be provided for. These questions are included in the registration form below.
Snacks, tea and coffee will be provided. Please let us know if you have any dietary restrictions through the registration form.
Large print programs will be available.
We are striving to make this a scent free space for all the attendees, through we cannot guarantee that the building is scent free. Please be conscious of scent sensitivities and try to avoid strongly scented products when attending the conference.
How can we make this event accessible to you? Please let us know by filling out this registration form. Note: this is for coordinating access needs only. To register to attend the conference, please go to the eventbrite page.
Full link for the access registration form:
https://docs.google.com/forms/d/e/1FAIpQLSe6rUtQ0E8yBq6YzJstI7wr8barVZ8d-flJT4RlwZao3pCbzw/viewform?usp=sf_link