Imagine Change: Motivational Interviewing for Healthcare Professionals
Description
For the past three decades, psychologists and healthcare professionals have helped people change through motivational interviewing. There is a mountain of clinical evidence to indicate that care grounded in patience, empathy, and acceptance produces positive outcomes, but only recently have scholars begun to explore the healing power of faith, hope, and love. In particular, healthcare professionals have begun to ask whether agape, selfless and sacrificial love, might hold the key to transforming the lives of their clients and patients.
Faith, hope, and love are Christian virtues. As a result, Christian healthcare professionals are in a unique position to connect motivational interviewing techniques to the theological resources of Christian faith. Christians believe that God created and then redeemed the world out of agape (John 1–3). This means that love lies at the heart of creation, including the physical bodies and mental faculties of human beings. If this is true—if sacrificial love is the logic by which creation is organized—how would our work as healthcare professionals change? What would it mean to practice our profession as a divine vocation? What would it look like for the Gospel to transform our thinking about patient care?
In this interactive workshop designed for anyone working in healthcare, Matthew Allen, DDS and Ryan Tafilowski, PhD (see bios below), will explore these questions related to the theology of work, as well as provide a platform for experiencing both the spirit and the core skills of motivational interviewing viewed through this shared Christian perspective.
Donuts, coffee, lunch,and snacks are included in the price of registration.
Speakers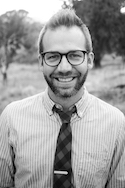 Matthew Allen, DDS is the president of M David MI LLC, a consulting and coaching firm specializing in motivational interviewing for healthcare professionals. Dr. Allen is the only US-based dentist member of MINT, the Motivational Interviewing Network of Trainers. Previously, Dr. Allen was the clinic dental director at Clinica Family Health, a nationally recognized federally qualified community health center serving the Denver metropolitan area, where he remains active in clinical practice. He also serves as part time volunteer faculty at the University of Colorado School of Dental Medicine.
Ryan Tafilowski, PhD is an instructor in the Division of Christian Thought at Denver Seminary, where he teaches theology and the history of Christianity, and associate pastor at Foothills Fellowship Church in Littleton, Colorado. He has published in the areas of inter-religious dialogue, historical theology, and Christian ethics. Ryan lives with his wife, Adrienne, and their badly behaved dog, Daphne, in Lakewood.