An evening of illuminating images from three Philadelphia area archives and the stories they bring to light.
About this event
In celebration of Archives Month Philly, please join the Pennsylvania Horticultural Society, the Mütter Museum, and the Wagner Free Institute of Science for an evening of illuminating images from the archives and the stories they bring to light. Presentations include:
Two Women, One Garden: Selections from the Castaña Portfolio
Photographs of the gardens and grounds of the Alba B. Johnson estate in Rosemont, Pennsylvania by noted photographers Ida W. Pritchett (1891-1965) and Clara E. Sipprell (1885-1975). Pennsylvania Horticultural Society
Old Blockley: A Glimpse Into a Public Hospital at the Turn of the Century
A collection of photographic images shows Old Blockley, later known as Philadelphia General Hospital, at the cusp of transformation from an almshouse into a modern hospital. These images reveal moments of the daily lives of residents and staff and raise questions about the benevolence of institutions designed to serve the working poor. Mütter Museum
The Poetry and Science of Botanical Instruction at the Wagner Free Institute of Science
Explore the history of botanical instruction at the Wagner through its extensive lantern slide collection – from the poetry of Dr. Emily Hunt's lectures in the 1890s to the photomicrographs created in the Wagner's darkroom in the 1920s, and much more. Wagner Free Institute of Science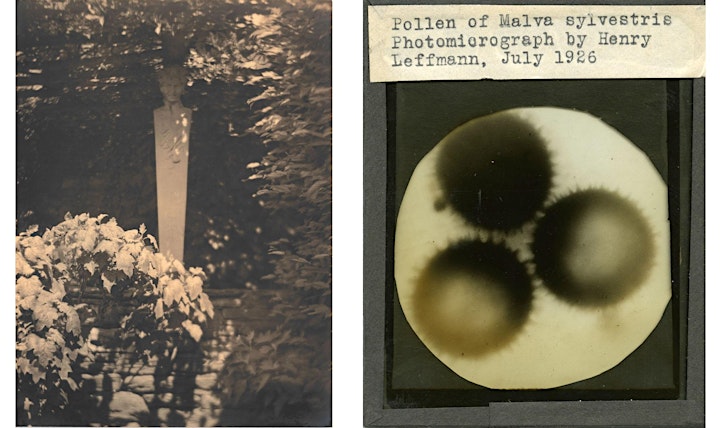 Archives are information centers where records about the past – including diaries, financial records, photographs, and emails – are made available to researchers. During the month of October, everyone is invited to celebrate archives, the work of archivists, and the rich history of Philadelphia at events across the city and surrounding areas.
Organizer of Images from the Archives
Founded in 1855 in Philadelphia, the Wagner Free Institute of Science is dedicated to providing free public education in science. Its programs include free courses and lectures, field trips and lessons for children and museum tours for all ages. The evening science courses are the oldest program devoted to free adult education in the United States.  The Institute's Museum houses more than 100,000 natural history specimens, a collection begun by founder William Wagner in the early 19th century and expanded by the renowned scientist Joseph Leidy in the 1880s. Completed in 1865, the Wagner's National Historic Landmark building is essentially unchanged since the late 19th century and includes a Victorian exhibition hall filled with fossils, shells, minerals and mounted animal skeletons and skins displayed in original wood and glass cabinets. The Museum is currently open to visitors Tuesdays - Fridays, 9:30 AM to 4:30 PM and on the first Saturday of every month from Noon to 4 PM. The Wagner also offers courses, lectures and events in the evenings, in person and online. Join us!