IMAGE MOVERS: Enter the Dragon
About this Event
IMAGE MOVERS: UCLA Asian American Studies Center 50th Anniversary Film Festival
Presented by UCLA Asian American Studies Center, Center for Ethnocommunications, Film & Television Archive, Melnitz Movies.
In collaboration with Visual Communications, Film Quarterly, and UCLA Asian American Studies Department.
Festival Program
Asian American Icons (Asians in Hollywood): Spotlight on Bruce Lee
Saturday, March 21, 2019
3:00 PM - 5:20 PM
James Bridges Theater at UCLA
Short panel and Q&A Session to follow after the screening.
IN PERSON: Phil Yu of Angry Asian Man and more panelists to be announced.
All panelists are subject to change based on availability.
ENTER THE DRAGON (1973) - 4K RESTORATION!
DIR: Robert Clouse. SCR: Michael Allin. CAST: Bruce Lee, John Saxon, Jim Kelly.
Considered one of the most popular martial arts films of all time, this US/HK co-production fully captured Lee's immense screen presence, sinewy athleticism, and bona fides while elevating him into international stardom. As part of our 50th celebration, we unveil a special program on Bruce Lee and invite his friends and the community out for a night of reminiscing and reverie.
DCP, color, in English and Cantonese with English s/t, 102 min.
---
View more screenings on our partner, UCLA Film & Television Archive's website at https://cinema.ucla.edu/events/2020/image-movers-ucla-asian-american-studies-center.
For more information for the IMAGE MOVERS Film Festival, go to http://aasc.ucla.edu/aasc50/film.
---
PARKING & PUBLIC TRANSPORTATION
The James Bridges Theater is situated on the northeast corner of the UCLA campus in Westwood, adjacent to the Broad Art Center and the Murphy Sculpture Garden.
For parking, from Hilgard Ave. enter the east side of campus at Wyton Dr. Make an immediate right turn onto Charles E. Young Dr. East and signs will direct you to Parking Structure 3. Pay-by-space parking is $3 per hour, up to $13 (all day).
The nearest bus stop is for the Metro 2/302 line at Hilgard/Charing Cross and Hilgard/Sunset (under 5 minute walk to James Bridges). The closest Big Blue Bus stop is for Route 17 at Charles E Young/P2 Hub (approximately a 13 min walk to James Bridges).
PLEASE NOTE:
Any remaining unsold tickets will be made available for stand-by patrons after the box office/check-in table opens on the day of the screening.
Tickets purchased in advance do not guarantee admission. Seats must be claimed by 15 minutes before show time. Unoccupied seats will be released to stand-by patrons at that time. All online ticket sales are final and refunds will not be provided the day of the event.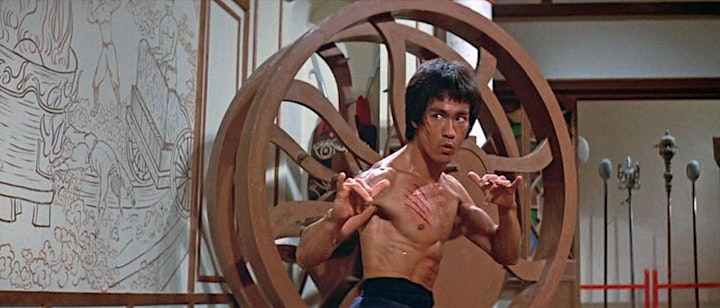 Enter the Dragon by Robert Clouse.