Actions and Detail Panel
IMA PDX February CPE Dinner
Tue, February 21, 2017, 6:00 PM – 8:30 PM PST
Description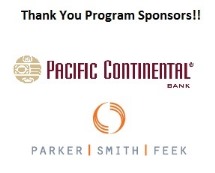 It is the start of a New Year, with a new President who has promised significant changes:
What will happen in healthcare? Interest rates? Economic growth? Trade agreements?
And what can you do based on anticipated changes to help your company prosper in 2017? Are you or your owner planning to invest in 2017, raise capital, increase after tax profit, reduce risk or prepare for an exit or acquisition?
Your IMA Board has assembled a panel of experts in Business Law, Banking, Corporate Tax and Risk Management to provide predictions on probable changes in the next four years, and how you can take advantage of opportunities to improve business and minimize risks. They will each offer you 3-5 of their top concerns/recommendations. What are the most important things you need to do in 2017 to make winning decisions? Please come prepared with questions and ready to hear a stimulating discussion on how to prosper in FY2017.
---
Menu - Buffet:
Baked Ham w/ whiskey mustard sauce
Baked 4 Cheese Penne
Caesar Salad
Fresh Fruit
Assorted Desserts
Coffee and Tea
No Host Bar service
Appetizers
Stuffed Mushrooms
Domestic Cheese Platter
---
Meeting Schedule:
6:00 PM DOORS OPEN
6:20 - 7:10 PM Panel
7:10 - 7:40 PM Networking/Dinner
7:40 - 8:30 PM Panel + Q&A
---
Panel Moderator: Bruce Seiler, Blue Chip Financials, LLC, trusted financial advisor to business owners on growth and financial strategies.
MBA-Finance, Certified Management Accountant, Certified Financial Manager with over thirty years experience doing financial accounting, cost accounting, cash management, raising capital, M&A, budgets, forecasts, business plans and helping owners to increase revenue, profit and net worth.
Blue Chip Financials, LLC - helps business owners achieve blue chip financial results in terms of revenue growth, profit and increased net worth
Panelist Name: Steve Watts, Senior Vice President, Commercial Banking Manager, Pacific Continental Bank
Steve's professional experience includes 28 years in Banking, 24 of which have been in commercial lending in Portland. He started career with First Interstate Bank, leaving to join Bank of the West in 1996. He joined Pacific Continental Bank in 2013 where he now leads a team of lenders serving clients in both the Greater Portland and Vancouver/SW Washington markets. His specialties include manufacturers, distributors, wholesalers, contractors and professional firms.
Steve serves on boards for both the Rotary Club of Portland (18 year member) and the Portland Rotary Charitable Trust (the Club's foundation). He is currently the Club's President-Elect. He also serves as a board member and regular delivery volunteer for Meals on Wheels Steve graduated from Oregon State University with a BS in Business Management/Financial Services and has a graduate degree in banking from Pacific Coast Banking School. He lives in Gresham with wife Kristal (who is a teacher), 12 year old daughter Claire and 5 year old son Thomas.
Panelist Name: Adam Rose, Owner, Corporate Attorney, Rose Law Firm, PC
With 20 years of experience as an attorney, Adam Rose founded and now leads the Rose Law Firm, a boutique law firm of seven attorneys that focuses on representing closely-held business owners with business ownership transition planning, corporate transactions, liquidity events, executive compensation, estate planning, real estate transactions, fiduciary duty advising, and change-of-control business litigation. The Rose Law Firm prides itself on providing value-focused legal representation at reasonable rates. Before forming the Rose Law Firm in 2012, Adam had previously practiced law at two of Portland's largest and best known law firms. Adam is widely called upon to speak to groups on business ownership transitions issues for closely-held businesses (planned and unplanned) and creative strategies for maximizing owner value. Adam graduated with his J.D. in 1997 from Harvard Law School and is licensed to practice law in Oregon, Washington, and the U.S. District Court, District of Oregon.
Panelist Name: Michael Lortz, CPA, LEED AP, Shareholder, Geffen Mesher
Michael Lortz, CPA, LEED AP is an experienced tax and accounting professional with significant experience working with privately owned businesses and their owners. Some of the projects Michael routinely works on include advising clients on the purchase or sale of real estate, assisting business owners with ownership transition planning, analyzing a company's entity structure with an eye toward tax and liability concerns, and participating in strategic planning conversations related to business expansion. In addition, Michael oversees the preparation of tax returns to keep clients in compliance with their filing requirements. He is a frequent speaker regarding tax updates and business transition planning. When he's not working with clients, Michael enjoys spending time with his wife and 5 children as well as serving as a board member or volunteer for a variety of non-profit organizations.
Panelist Name: Larry Johnson, MBA, CIC, Account Executive
Over a decade ago, Larry decided to take his manufacturing expertise and turn it into a career in the insurance industry. With a background spanning manufacturing and real estate investment, Larry has the ability to speak the client's language and understand the nuances of business exposures. He has a thorough understanding of business and the economic impact of run-away premiums. He helps business owners understand their risks and decide how to prioritize budgets.
Larry is a fifth generation Oregonian. He attended the University of Oregon as well as Portland State University. Larry loves to stay busy, and has multiple projects running at any given time. Currently Larry is finishing a full remodel of his home; renovating an old sports car, and attempting to write a young-adult novel with his teenage daughter. Larry is a devoted husband and father and enjoys spending weekends together with his wife and three children.