About this Event
The IM4 Lab was created by Indigenous filmmaker, Loretta Todd, alongside media matriarchs Doreen Manuel, Cease Wyss, and Tracey Kim Bonneau. IM4 is in collaboration with Emily Carr University to offer workshops training Indigenous peoples in XR.
IM4 is conducting an Augmented Reality workshop FREE for Indigenous participants this February 1st-2nd. In this workshop new students will have an introduction to AR concepts, and creative processes. Students will begin to create an AR project with the instructor where the completed projects will have the opportunity to be showcased at the IM4 Summit later this March. Meanwhile continuing students from a previous AR workshop will get to keep working on their AR avatars. Our guest speakers will take students through the creative processes of augmenting a photograph, and the character building of AR avatars. Students will gain the basic skills to create an app and avatar, coding in unity, and gain a hands-on experience working with the new technologies.
The workshop will start at 9am-5pm at the Centre for Digital Media. There will be a light breakfast, and lunch provided. To sign up and reserve your spot RSVP. For any inquiries email im4@ecuad.ca.
AR instructor:
Vincent McCurley, has created award-winning immersive, interactive, digital media experiences for over 20 years. His work in alternate realities includes directing interactive virtual reality experiences and 360 videos. As a creative technologist at the National Film Board of Canada, he has worked on several projects with indigenous artists including Biidaaban: First Light (Lisa Jackson), God's Lake Narrows (Kevin Lee Burton), and Ice Fishing (Jordan Bennett). To see some of Vincent's work with the NFB Digital Studio check out www.doclab.org/people/vincent-mccurley
Guest Speakers:
Quinn Brander, is a graduate from the Centre for Digital Media and is a classically trained cellist whose passions reside in game design and sound in digital media. Quinn recorded, mixed and produced Paso Doble's debut album, released by tour de bras records, as well as Heirloom's third album, released independently. He has also scored, performed and recorded music for several independent short films, including Laura Steward's critically acclaimed Blobby. He is currently a game designer at Smoking Gun Interactive.
John Pantherbone is Blackfoot and from the Blood Tribe in southern Alberta. He is the first Indigenous graduate from the Centre for Digital Media's Master of Digital Media program. He also has a BFA in New Media from the University of Lethbridge. He worked a brief period in the digital media industry and he worked on TV shows for APTN and Showcase as a technical artist. John works in the healthcare industry as a website and social media specialist at the First Nations Health Authority. In his spare time he dabbles in analog and digital photography, motion graphics and 3D animation.
The IM4 VR/AR Lab is dedicated to Indigenizing VR/AR/360 by enabling Indigenous communities to find effective ways to incorporate these technologies into educational, cultural, language, artistic and commercial applications. We support Indigenous artists and media professionals by providing immersive learning and production opportunities and building an Indigenized tech eco-system. Our governance structure is based upon respect and reciprocity, which also honours Indigenous diversity of expression. At the core of the IM4 Lab is the guidance of media matriarchs, who bring experience and commitment to serving the community. 
We would like to thank our sponsors which include Western Diversification, Congress of Aboriginal Peoples, Emily Carr University, Centre for Digital Media, Creative BC, and Canada Council for the Arts.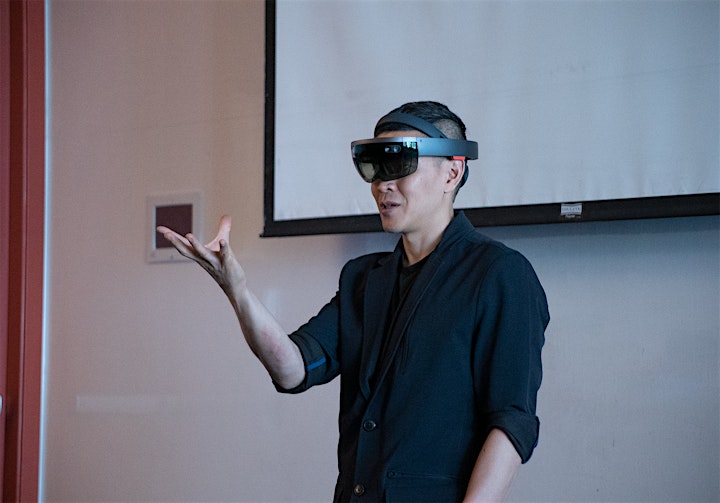 AR Instructor Vincent McCurley in the Holo Lens
Guest Speaker Quinn Brander at an IM4 workshop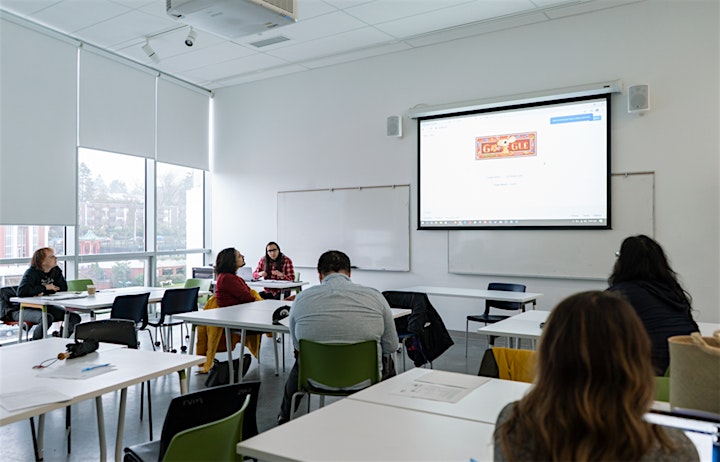 Guest Speaker John Pantherbone at an IM4 AR Workshop.