I'm VIP Everywhere

Daily Event: 8:00 PM to 10:00 PM (PST)
Event Details
                                       I'm VIP Everywhere 
RSVP for Entry, at Any Time. Any Where for FREE & Have Access to The Hottest Spots
                                   The Only way to get In, VIP Everywhere!
                     Nightclub Package - $40 per person - Express Entry+Drinks

                                         Email for Weekly Night Club List
Ladies Night Out - $30 per person - Free Bottle Included (minimum 6 females )
                                           Email for Weekly Night Club List
Do You want to get our Unlimited Drinks and Club- Hopping Wristbands? Email mail us now to receive more information: ImVIPEverywhere@gmail.com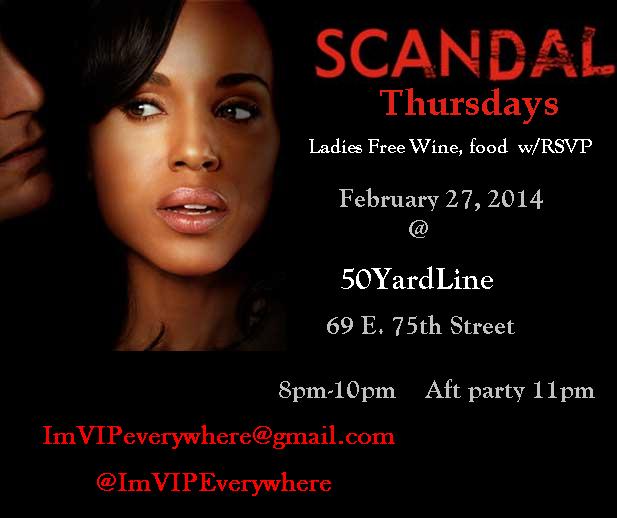 Scandal Premiere Thursday February 27 2014 at 9pm 
Come Watch as the story unfolds once again.....
Olivia Pope of Pope Associates has dedicate her life to protecting the public images of the nation's elite but is finding that no matter how hard she tries, she cannot leave parts of her past behind.
LADIES Free w/ RSVP
Free Drinks, Wine and Food til 10pm
Organizer
1st Lady Entertainment
I'm VIP Everywhere is the Ultimate experience in Entertainment-related services and VIP lifestyle.
I'M VIP EVERYWHERE
Something New!             Something Better!                 VIP just for YOU!
By becoming a Member you can live, shop, entertain and have the luxury of being VIP Everywhere!
Our services offer great benefits, discounts, free gifts and so much more:
Memberships are available for individual ticket buyers (Restrictions Apply)
Contact us on how to become a VIP Member
                                                                                    Come in, we're waiting for You.