Description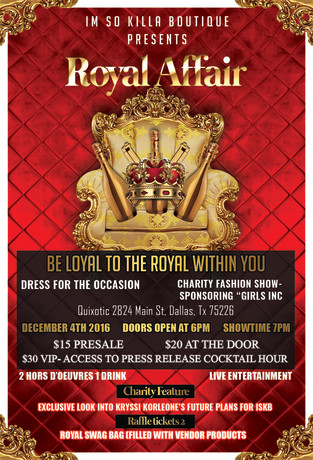 Royal Affair
To feel like a "KING or QUEEN" is as simple as believing you are one. A fashion enthusiast wears confidence. I'm so Killa Boutique presents "Royal Affair" charity fashion show. Encouraging kings and queens to be loyal to royal within themselves.
About Girls Inc.
Research shows that empowering girls and women yields benefits for entire families and communities, ultimately lifting and transforming society. Yet, the intense pressures girls experience growing up today are many: gender stereotypes, narrow expectations, negative media messages. At Girls Inc. we make sure that at risk girls and young women receive the education and encouragement to reach their full potential, in spite of the context of her life or the obstacles she faces. Our ultimate goal is to empower girls to become strong, smart and bold women who positively contribute to our communities and who understand, value and assert their rights.
The vision of Girls Inc. is to enable girls, ages 6-18, to become strong, smart and bold, and graduate from high school equipped for success with personal effectiveness, academic, and career planning competencies.