Description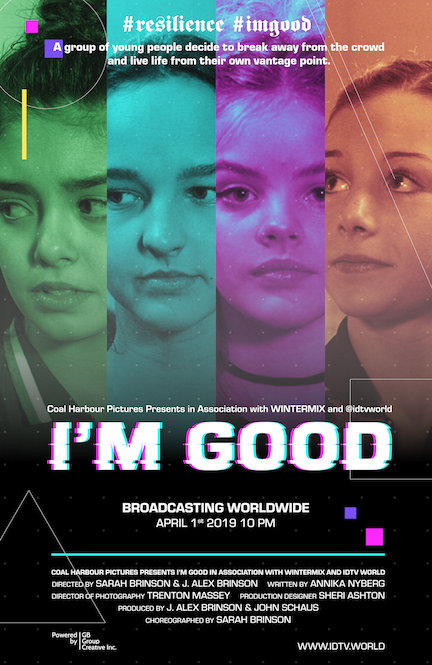 "A group of young people decide to break away from the crowd and live life from their own vantage point..."
'I'm Good' showcases the various ways bullying can bring someone down while at the same time highlighting the very truth that, with resilience and determination, one is able to rise above it all and stand up for what's right! Through the pain and embarrassment — these individuals realize that they're not alone but rather together, each fighting their own battle— whatever it may be. This music video embodies the power and strength one needs to overcome 'rumours', 'perceptions,' and whatever else to take a stand against bullying… TOGETHER!! Additionally, to embrace one's differences, to be comfortable in one's own skin, and to be good with that.
The premiere will be followed by special guest panel talkback + reception.
LOCATION:
Wilshire Screening Room
8670 Wilshire Boulevard
Beverly Hills, CA 90211
(by invite only)
TIME: 3pm-4pm (reception to follow)
Broadcasting Worldwide April 1, 2019
---
Produced by Coal Harbour Pictures www.coalharbourpictures.com
An innovative multimedia firm specializing in the art of storytelling and fostering creative communities.
Powered by GB Group Creative Inc.
Join the Movement FOLLOW @idtvworld and POST Using the Hashtags #resilience #imgood #idtvworld