Description
Join us to celebrate the launch of ILUMINACION LAWRENCE. Our inaugural launch will include music, food, and the Casey Bridge + Ayer Clock Tower lighting on Wednesday, June 5th at Pemberton Park!
Gather at 6:30pm

Opening Ceremony 7pm

Lighting 7:30pm
ILUMINACION LAWRENCE is a city-wide lighting project that creates an immersive public art experience using LED lighting and projections. Lighting the city's walls and pedestrian spaces not only makes for a safer, more enjoyable city, but it also serves as a dynamic medium where creatives are invited to turn city streets into immersive installations of art.
HOW YOU CAN GET INVOLVED
If the Lawrence community crowdfunds $30,000 by June 30, 2019, MassDevelopment will provide a 50/50 match for a total award of $60,000 to install programmable LED lights and projection installations at the entrance of the Lawrence Public Library and Warehouse Square at the Everett Mill. // DONATE: patronicity.com/iluminacionlawrence
MORE INFO
Visit our website (iluminacionlawrence.org) for more information on the lighting projects, including:
Casey Bridge (Amesbury St)

Warehouse Square

(south-facing side of Everett Mill)
FOLLOW ALONG
Follow our social media for updates, events and ways to participate:
PARTNERS
Thank you to our partners in the Iluminación Lawrence projects and event:

City of Lawrence, Massachusetts
The Office of Mayor Dan Rivera
Essex County Community Foundation
We Are Lawrence
Lawrence Redevelopment Authority (LRA)
Groundwork Lawrence
Elevated Thought
Lawrence Partnership
MassDevelopment
Lawrence Police Department
CONTACT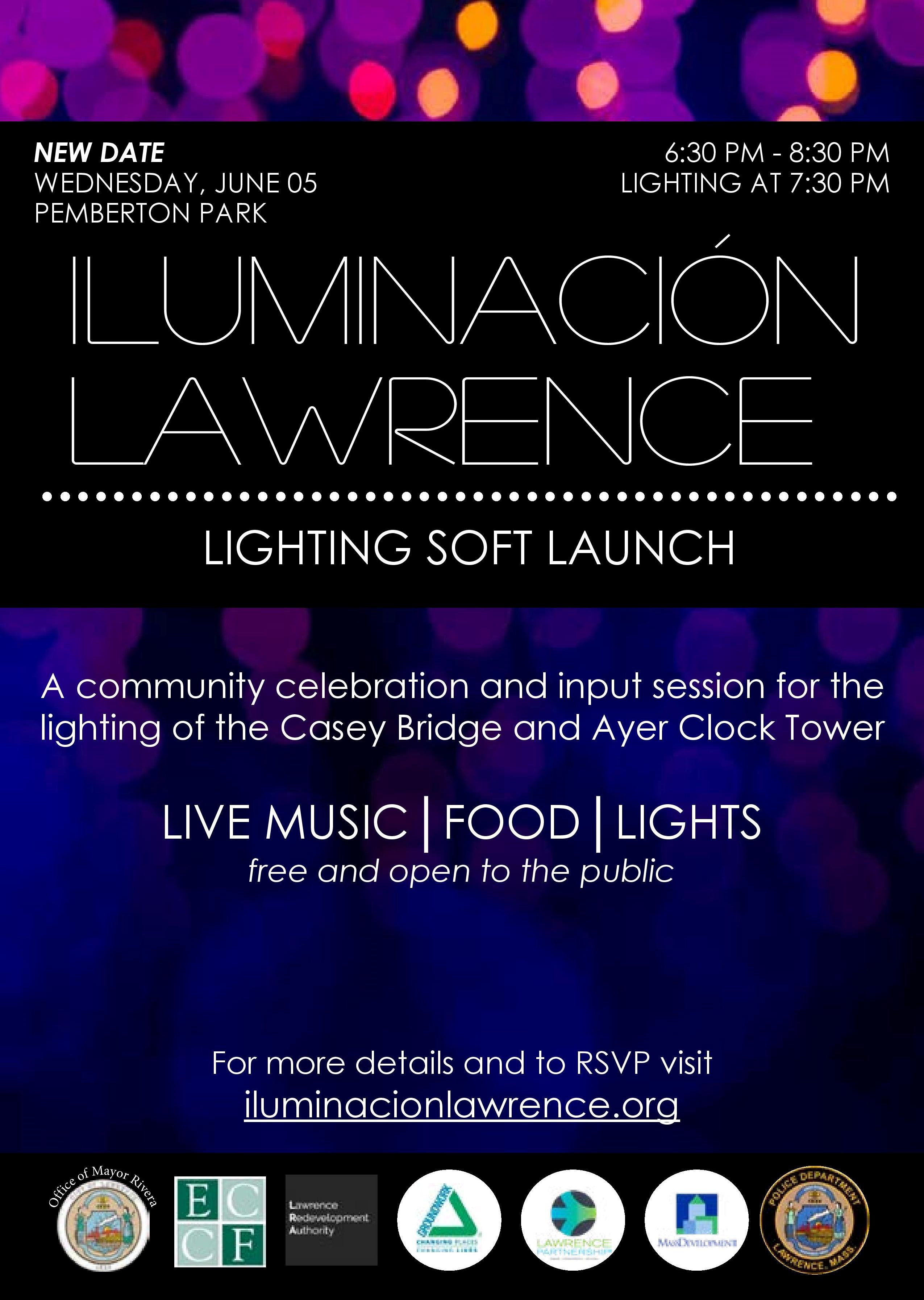 ¡Acompáñenos a celebrar el lanzamiento de ILUMINACIÓN LAWRENCE! Este evento inaugural incluirá música, comida y la iluminación del Casey Bridge + Ayer Clock Tower el jueves 30 de mayo en Pemberton Park.
Comienzo 6:30pm

Ceremonia de apertura 7:00 pm

Iluminación 7:30pm
ILUMINACIÓN LAWRENCE es un proyecto de luces que crea una experiencia inmersiva artística para el espacio público utilizando luces LED y proyecciones. La iluminación de las paredes y los espacios peatonales de la ciudad, no solo hace que sea una ciudad más segura y agradable, sino que también sirve como un medio dinámico donde los creativos están invitados a convertir las calles de la ciudad en instalaciones de arte inmersivas.
CÓMO PARTICIPAR
Si la comunidad de Lawrence recaude $30,000 antes del 30 de junio de 2019, MassDevelopment nos da fondos complementarios dólar a dólar para completar una donación de $ 60,000 para instalar luces LED e instalaciones de proyección en la entrada de la Biblioteca Pública de Lawrence y Warehouse Square en Everett Mill // DONA AQUÍ: patronicity.com/iluminacionlawrence
INFORMACIÓN
Visite nuestro sitio web (iluminacionlawrence.org) para más información sobre nuestros proyectos de iluminación, incluyendo:
Torre del Reloj Ayer

Puente Casey Bridge (Amesbury St)

Biblioteca Pública de Lawrence

Warehouse Square (la pared sur del Everett Mill)
SÍGUENOS
Síguenos en nuestras redes sociales para noticias, eventos y información sobre cómo participar:
PARTNERS
Gracias a nuestros socios en los proyectos y eventos de Iluminación Lawrence:
CONTACTO