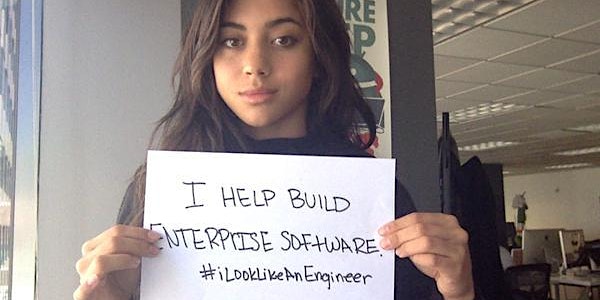 #ILookLikeAnEngineer Community Gathering
Date and time
Thursday, August 13, 2015 · 6 - 9pm PDT
Location
Rackspace 620 Folsom St San Francisco, CA 94107
Refund Policy
Contact the organizer to request a refund.
Description
This event, inspired by the negative attention received by engineer Isis Wenger and the resulting inspiring #ILookLikeAnEngineer Twitter movement, will bring together underrepresented engineers (women, PoC, LGBT, non-white-or-asian-straight-cis-males) for an evening to financially support the creation of billboards highlighting these engineers and to give us a chance for discussion.

Join us for:

* Appetizers
* Drinks
* Networking
* Talks and a Q&A panel by Isis Wenger, Alicia Morga, Wayne Sutton, Erica Baker, Leslie Miley, and Dom DeGuzman

Photographers will be present to collect portraits of willing attendees for the billboards and to document the event.
The space is wheelchair accessible. There is extremely limited bike parking inside, but you'll be more likely to find some signs to lock your bike to outside the building.

* If you'd like to support this cause but are unable to attend, please donate above or to our Indiegogo campaign. Those interested in doing corporate sponsorships may contact Laura Watkins at laura.watkins AT rackspace.com. *
Thank you to our sponsors: Segment, Rackspace, OneLogin, and Hackbright Academy!

About our speakers:

Engineer Isis Wenger saw a lot of reactions to an ad her company put up in San Francisco picturing her. She wrote about these reactions in her Medium post, "You May Have Seen My Face On Bart." As a result, she started the #ILookLikeAnEngineer Twitter hashtag that saw participation from thousands of engineers of all shapes, sizes, colors, genders, ages, and backgrounds.

Alicia Morga is the Founder and CEO of No. 8 Media, Inc. Formerly, she was the founder and CEO of Consorte Media, Inc., a lead generation and ad network backed by The Mayfield Fund and Sutter Hill Ventures. Consorte was acquired by Audience Science in 2010. Prior to founding Consorte, Alicia was an investment professional for The Carlyle Group and Hummer Winblad Venture Partners, a corporate attorney for Wilson Sonsini Goodrich & Rosati, and an investment banker at Goldman, Sachs & Co. She holds a J.D. from Stanford Law School and a B.A. from Stanford University. Alicia was named a Young Global Leader by the World Economic Forum and one of the Most Influential Women in Technology by Fast Company. In addition, she created the popular iPhone app gottaFeeling, published two popular ebooks: Create iPhone Apps That Rock and 20 Things I've Learned as an Entrepreneur, and writes on leadership for Fast Company.com, Huffington Post and Women 2.0. You can find her on LinkedIn, her personal website Alicia Morga.com or on Twitter @AliciaMorga.


Wayne Sutton is a serial entrepreneur and general partner at BUILDUP.vc. Wayne experiences ranges from years establishing partnership with large brands to early stage startups. As a leading voice in diversity and inclusion in tech, Wayne shares his thoughts on impact and culture in various media outlets such as the WSJ and USA Today. In addition to advising early stage startups and diversity advocacy groups, Wayne is passionate about team building, founder coaching, culture, UI/UX and entrepreneurs who are passionate about using technology to change the world.


Dominique (Dom) DeGuzman is a self-taught software engineer with a background in desktop hardware and public speaking. Dom jumped into software and tools development after years of provisioning linux. Now focusing on Cloud engineering at Twilio, she focuses on development pipeline, infrastructure monitoring, and internal communications tools. Alongside development, Dom is one of the founding members of Twilio's diversity and inclusion initiative as well as the SF City Director for Lesbians Who Tech. She travels speaking about diversity and inclusion, battling brogrammer culture, impostor syndrome, and encouraging more underrepresented minorities in the field to pursue a future in STEM.

A Silicon Valley native, Leslie Miley began his tech addiction programming on the Mac Plus and hacking set top boxes, to leading engineering teams at the some of the most recognizable tech companies. Besides going off the grid for a few years and building a straw bale house, Leslie has held various engineering leadership roles at Yahoo, Google, and Apple. In between trying to make the perfect cup of coffee and chess boxing, Leslie can currently be found @Twitter leading the Product Safety Engineering Team.

Erica Joy Baker is a Senior Engineer at Slack Technologies and advocate for diversity and inclusion in tech, and expanding access to tech education. Erica's career in tech began fourteen years ago doing domain administration for the University of Alaska Statewide System, before becoming a Googler in 2008. Erica's role grew and shifted within Google, growing from Support Technician to Site Reliability Engineer. She joined Slack in 2015, where she focuses on Build and Release Engineering. Erica is on the Advisory Boards for Atipica and Hack the Hood, and is a Tech Mentor for Black Girls Code. Erica is currently based in Oakland, California.