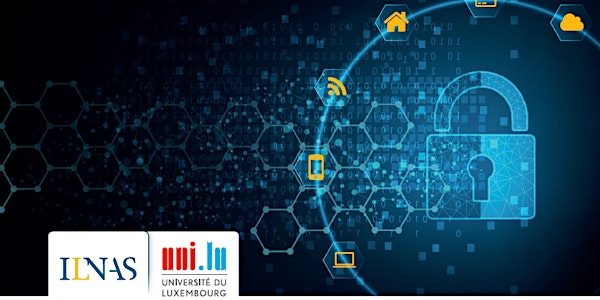 ILNAS-University of Luxembourg Breakfast "Smart ICT: Gap Analysis between"
Invitation - Breakfast "Smart ICT: Gap Analysis between Scientific Research and Technical Standardization in the field of Cloud Computing
When and where
Location
ILNAS (Southlane Tower I - 5th floor) 1 avenue du Swing 4367 Esch-sur-Alzette Luxembourg
About this event
ILNAS, in collaboration with the University of Luxembourg and with the support of the EIG ANEC, is pleased to invite you to a breakfast dedicated to Cloud Computing and technical standardization on Tuesday 04 February 2020, from 09:30 to 11:00. After an introduction of national activities in the technical standardization domain, ILNAS will provide an overview of the national and international ICT technical standardization landscape, with a focus on Cloud Computing. Thereafter, the University of Luxembourg will present a technical report addressing the gaps between research and technical standardization related to data and privacy with a focus on Cloud Computing technologies. This technical report as well as two others, in the domains of Internet of Things and Artificial intelligence & Big Data, were published during the World Standards Day in October 2019, in continuation of the « White paper Data Protection and Privacy in Smart ICT » released during the one of October 2018. These developments are part of the Research Program ILNAS – University of Luxembourg on "Digital Trust for Smart ICT" (2017-2020).
AGENDA
09:30 – 09:40 Welcome of participants
09:40 – 09:50 ILNAS – Presentation of the National Standards Body
Mr. Micael BORGES - ILNAS/OLN
09:50 – 10:15 ICT technical standardization - Focus on Cloud Computing
Mr. Nicolas DOMENJOUD - ILNAS/OLN
10:15 – 10:40 Presentation of the technical report "Smart ICT: Gap Analysis between Scientific Research and Technical Standardization in the field of Cloud Computing"
Mr. Chao LIU - University of Luxembourg
10:40 – 11:00 Questions and open discussion
REGISTRATION
The registration is mandatory for this event as places are limited. We invite you to confirm your attendance by Friday, January 31st, 2020.
ACCES
• ILNAS (5ème étage)
• Southlane Tower 1
• 1, avenue du Swing
• L-4367 Belvaux
Please feel free to contact us for more information.:
• E-Mail : anec@ilnas.etat.lu
• Tél : (+352) 247 743 - 70
• Fax : (+352) 247 943 - 70
Notes :
The new General Data Protection Regulation (GDPR) which protects the rights and the liberties of citizens with respect to the personal data processing came into effect on May 25th, 2018. Your personal data is currently used to allow us to keep you informed about the news concerning the various activities of the ILNAS. If you wish to keep your subscription active, no action on your behalf is required. Would you like to be removed from our mailing list, you have at any time the possibility of cancelling your subscription, by contacting us via the address dpo@ilnas.etat.lu. In order for you to know how we handle your personal data, you can consult the general terms and conditions of use available on www.portail-qualite.lu.
Participants are hereby informed that they are likely to appear on photographs taken at the event. These are intended to be published in ILNAS and ANEC G.I.E. print and/or digital/social media. If you do not wish to be photographed, please alert the organizers.