Description
Illuminations! A Make & Take Gift-Making Benefit
Come celebrate Strawtown's 15th Anniversary! Our hearts are a-glow and the winter gift-making season is upon us. We just launched a sparkling new website, and we are celebrating 15 years of keeping the lights shining while delivering our Nature-Connected curriculum to our communities.
Join us for a Nature-Crafting Party and Benefit (our first!)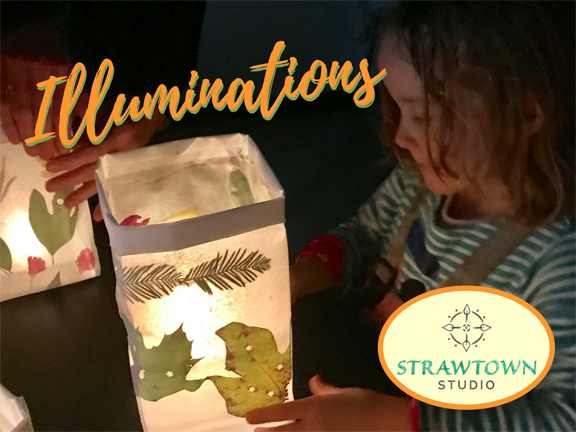 Make art and mingle as we raise funds to bring more art programs and workshops to our community. Instructors will guide you through creating an assortment of artful candle crafts, gift tags, woodland decorations and more – all adorned by you with nature's beauty. Perfect for teacher's gifts, friends, family, neighbors, dog-walkers – everyone on your list – or keep what you make to add it to your own holiday décor this season.
This is a family event – fun for all!
This Strawtown benefit will also be an opportunity to recognize some of our key community supporters. We can't tell you who…that will spoil the surprise!

Reserve now - space is limited. Tickets include instruction and all craft materials for abundant gift-making for all ages, light refreshments, fireside music, and a few surprises, too.
Cannot attend? Please consider making a donation to support our work! DONATE HERE
Thank you!

Your Friends at Strawtown

Strawtown Art & Garden Studio, Inc. is a 501(c)(3) not-for-profit. Donations are tax deductible.