Description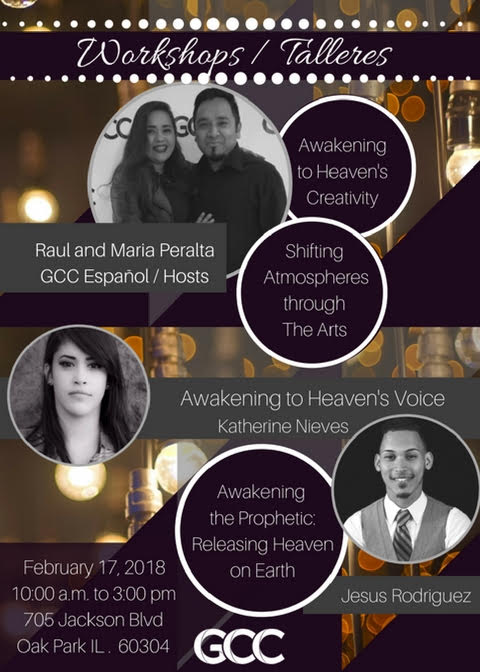 Details
Day workshops that will propel you into the greater. Workshops start at 10:00 a.m. with lunch break at 12:00pm to 1:00pm (lunch will not provided) will end workshops at 3:00 p.m.
10:00 a.m. to 3:00 p.m.
Daytime Workshops
34.99 for all 4 workshops:
Awakening the Prophetic: Bringing Heaven to Earth
Awakening the Prophetic: Heaven's sounds
Seeing Heaven's Creativity
Shifting Atmosphere through the Arts: given by Maria D. Peralta and Raul Peralta. What they carry is the ability to shift Atmospheres using sound and movement through the arts. In 2011 they received insight on practical ways on how to shift Atmospheres to inhabit The Presence. This has followed them with testimonies of people receiving revelation, healings, and Breakthroughs in their lives. They are delighted to share these with you in this workshop.
Some topics are:
*Sounds that Shift
*Prophetic Dance Movements/meanings
*Awakening to colors/ significance
Join us! Sign up here⬇️
https://www.eventbrite.com/e/illumination-day-workshops-iluminacion-talleres-tickets-41861354438


You are then invited to attend our Night Worship that will start at 5:00 p.m. (free entrance)
Why Illumination? The dictionary speaks of it as this lighting or light.
We believe we are coming to the realization of our GLOW and the MANIFESTATION of The Heaven's on Earth.. The Vision for Illumination is to awaken others to their full realization of this and empower them to awaken to the Movement that God is creating for the sons and daughters for IMPACT.
You are:
-- light, lighting, radiance, gleam, glow, glare; shining, gleaming, glowing; brilliance, luminescence;
_______________________________________________

Talleres durante el dia que te proyectaran. Los talleres empiezan a las 10:00 a.m. con tiempo de almuerzo de 12:00 p.m. - 1:00 p.m. ( almuerzo libre pueden ir a comer en la area)
Talleres: 10:00 a.m. - 3:00 p.m.
34.99 por los cuatro :
Horario de talleres 10:00 a.m. to 3:00 p.m.
Despertando Lo Profetico
Despertando el Canto Profetico
Viendo la Creatividad del Cielo
Transformando Atmósferas a través del Arte

Les invitamos a la noche de alabanza que tiene entrada Gratuita y empieza a las 5:00 p.m.
Porque Iluminacion?
Creemos que estamos en una temporada donde estaremos RADIANDO y MANIFESTANDO lo que el cielo está proyectando sobre la tierra. La visión de Iluminación es despertar en nuestro potencial para empoderar e IMPACTAR. Tu eres:
luz, rayos, radiante, Brillo, Claro, Brillante, iluminación.