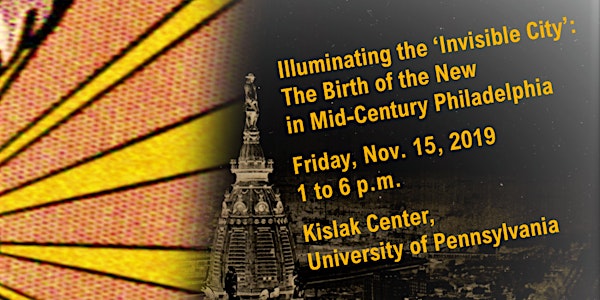 Illuminating the 'Invisible City' Symposium
When and where
Location
Kislak Center 3420 Walnut Street, 6th Floor Philadelphia, PA 19104
Description
The Philadelphia Avant-Garde Studies Consortium (PASC) is pleased to present its 2019 symposium, Illuminating the "Invisible City": The Birth of the New in Mid-Century Philadelphia, on ​Friday, Nov. 15, 2019, from 1 to 6 pm in the Class of 1978 Orrery Pavilion of the Kislak Center for Special Collections, Rare Books, and Manuscripts, on the 6th floor of the University of Pennsylvania's Van Pelt Library.

The focus of this year's symposium is the upcoming exhibition: Invisible City: Philadelphia and the Vernacular Avant-garde. ​Curated by Sid Sachs, Director of Exhibitions at Rosenwald-Wolf Gallery, University of the Arts, and assistant curator Jennie Hirsh, and funded by The Pew Center for Arts & Heritage, Invisible City will take place in three venues at the University of the Arts and at the Pennsylvania Academy of the Fine Arts from Jan. 21 through April 4, 2020. Unprecedented in its depth and scope, Invisible City will examine the crucial role of Philadelphia in shaping postwar art and culture. This period was one of local art institutional expansion, when the YMHA/YWHA, the ICA and contemporary art markets were built and artists interacted freely with their global counterparts, from Marcel Duchamp and Andy Warhol to Louis I. Kahn and John Coltrane. During this time, Philadelphia was a "city of firsts," from Pop Art exhibitions and performance art to innovative art school curricula, architecture, and city planning. Invisible City will include works by major architects, photographers, sculptors, craftspersons, painters and conceptual artists of the period, including Rafael Ferrer, Roy Lichtenstein, Ray Metzker, Ree Morton, Italo Scanga, Denise Scott Brown, and Robert Venturi. The exhibition will also include films, along with ephemeral objects, posters, and pamphlets. Celebrating the region's performance art history, Alex Da Corte will reinvent Allan Kaprow's landmark happening, Chicken, at the YMHA/YWHA (now Gershman Hall, UArts), where it was originally performed in 1962.

The PASC symposium will preview, enhance, and illuminate Invisible City, analyzing or engaging with the cultural milieu during this era (roughly mid 1950s to late 1970s). Individuals, groups, and collaborating artists and scholars will offer scholarly papers, lightning presentations on artistic and scholarly projects, small-scale exhibitions, and brief performances.