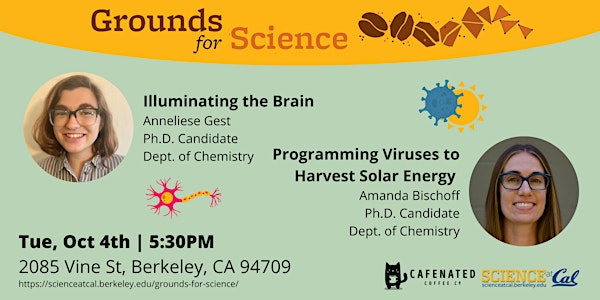 Illuminating the Brain & Programming Viruses to Harvest Solar Energy
Illuminating the Brain & Programming Viruses to Harvest Solar Energy
When and where
Location
Cafenated Coffee Co. 2085 Vine Street Berkeley, CA 94709
Refund Policy
Contact the organizer to request a refund.
Eventbrite's fee is nonrefundable.
About this event
Illuminating the Brain &
Programming Viruses to Harvest Solar Energy
Tuesday, October 4th | 5:30–6:30 PM (PT)
Cafenated Coffe Co. | 2085 Vine Street, Berkeley
Illuminating the Brain: How light, color, and a jellyfish protein help us study the mind
How do we study our own brains? What's going on in our neurons? A fluorescent protein from jellyfish revolutionized how we can study what goes on in our cells. Learn the history of how we've made our brain signals glow by tracking brain electricity, neurotransmitters, and calcium. Then take a peek at the field today, as scientists develop new ways to watch the electricity in our brain.
Featuring:
Anneliese Gest
Ph.D. Candidate
Department of Chemistry
Programming Viruses to Harvest Solar Energy
We typically think of viruses as infectious agents that should be eliminated, but what if they could be reprogrammed for good? Come see how a virus infecting tobacco plants can be adapted to harvest light energy. By mimicking photosynthesis, we can learn how to design more efficient solar technology to help reduce our dependence on fossil fuels.
Featuring:
Amanda Bischoff
Ph.D. Candidate
Department of Chemistry
We believe science should be free and accessible. That's why we don't charge for any of our events or programs. But we can't keep it up without you. Please donate today.
A note about this in-person event:
This is an in-person event. In order to maintain capacity limits, registration will be required using the Eventbrite link (below). Please bring a copy of your Eventbrite ticket to the event, either on your mobile device or printed out.
We remind you that wearing a mask indoors is strongly recommended by the city public health officer.
About our Speakers:
Anneliese Gest is a chemistry PhD student in her sixth year in Evan Miller's lab at UC Berkeley. She uses fluorescent dyes to study how cells use electricity to grow and communicate with one another. She is interested in how we can light up biology using chemistry, and what chemists can learn from biology. She is also interested in science communication and writing. Outside of the lab, she likes to draw, go for hikes around the beautiful bay area, and hang out with her cat, Professor Pumpkin.
Amanda Bischoff grew up in Salt Lake City, Utah. From an early age, she loved to read fantasy novels and spend time in the mountains near her home. Her interest in nature led her to pursue a degree in chemistry from the University of Utah, where she performed research on the computational prediction of chemical reactions. Before graduating, Amanda took a two-year hiatus to volunteer and teach English in Romania and Moldova. After returning and receiving her bachelor's degree in chemistry in 2017, Amanda moved to Berkeley, where she is currently a PhD candidate in chemical biology. Her research focuses on modifying viruses to give them useful functions. At Berkeley, Amanda has also been involved in STEM outreach programs such as Expanding Your Horizons and has volunteered as a designer and author for the Berkeley Science Review, a graduate student-run publication. She also currently co-directs the Berkeley College of Chemistry Transfer Student Mentorship Program. In her free time, Amanda enjoys finding new hiking spots around the Bay and expanding her orchid collection.
About Science at Cal:
In 2008, Science at Cal was envisioned as a unifying effort to raise public awareness, understanding and appreciation of scientific research at Berkeley. To realize this vision, we engage the vast Berkeley STEM community as science communicators and foster creative collaborations among campus and community-based groups who share our commitment to equity and inclusion in STEM education and careers.
Science at Cal connects UC Berkeley STEM researchers with diverse community groups of all ages and backgrounds, for science engagement and learning. Accessibility, inclusiveness, creativity and innovation are hallmarks of Science at Cal events, which reach tens of thousands of people annually.