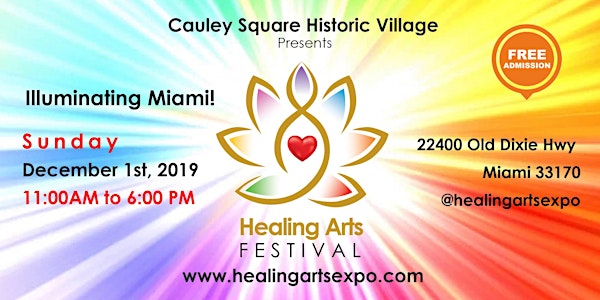 Illuminating Miami! Healing Arts Festival at Cauley Square Historic Village
Illuminating Miami ! Healing Arts Festival at Cauley Square Historic Village - December 1st
When and where
Location
Cauley Square 22400 Old Dixie Hwy Miami, FL 33170
About this event
Healing Arts is a unique holistic experience! A colorful, fun, creative, expansive, supportive, transformational conscious-consumer festival created for the entire family, presenting a celebration of pure love, human empowerment, featuring top local designers, artisans, practitioners, healers, speakers, artists, performers, top brands, wellness and holistic centers and organizations in South Florida.
The Healing Arts Experience includes:
Conscious Bazaar & Makers Market - Workshops & Short Talks - Meditation, Fitness & Yoga - Permaculture, Holistic, Green & Sustainable Lifestyles - Wellness, Therapies, Coaching, Intuitive Readings & Energy Healing Sessions - Art, Home Decor & Crafts - Live Performances & Sound Healing - Self-care, Beauty & Fashion - Vegan & Plant-based products and services - Medicine Wheel, Ecstatic Dance and & Cacao Ceremony - Holiday Village & Kids activities - Restaurants, Bakery & Vegan Food trucks - Animal Friends Care & Services
Spend the day, in a magical space full of nature, beautiful gardens, restaurants, shops and life-enhancing modalities from highly skilled teachers and practitioners, including: Quantum Healing, Ayurveda, Yoga, Meditation, Chakra Balancing, Intuitive Guidance, Herbal Nutrition, Skin Care, Aromatherapy, Reiki, Feng Shui, Astrology, Biomagnetism, Sacred Geometry, Theta Healing, Numerology, Feng Shui, Psychic Readings, Reflexology, Tarot, Hypnosis, Tantric Healing, Neuroscience, Chiropractic, Massage Therapy, Acupuncture, Iridology, Detoxification, Crystal Healing.
You can learn more about the event, see our list of our sponsors, speakers and diverse activities on the website www.helingartsexpo.com . Contact us to reserve your space or to participate as a speaker, sponsor, volunteer.at 305-336-9313 or by email at healingartsexpo@gmail.com. Follow us @healingartsexpo on IG and FB.
__________________________________________________________________________________________________________
Nos complace invitarte a unirse al 8º Healing Arts Festiva presentado por Cauley Square Historic Village.
Únase a nosotros en un espacio mágico de sanación a través del arte y el despertar de la conciencia con un toque del espíritu navideño.
¿De qué se trata el Healing Arts Festival?
¡Healing Arts es una experiencia holística única! Un festival consciente, colorido, divertido, creativo, expansivo, solidario y transformador creado para toda la familia, que presenta una celebración de amor puro, empoderamiento humano, con los mejores diseñadores locales, artesanos, profesionales, sanadores, oradores, artistas, las mejores marcas, centros, comunidades, organizaciones de bienestar y grupos holísticos en el sur de Florida. Como vendedor, el Healing Arts Festival es una oportunidad para promocionar a los asistentes al festival, que vienen de todos los rincones para participar en esta celebración por ya casi cinco anos, en armonia, unidad y conciencia, así como una oportunidad para establecer contactos con fabricantes relacionados, artistas, organizaciones sin fines de lucro, públicas y privadas, emprendedores, profesionales y productores de medios.
La Experiencia de Healing Arts Festival incluye:
Conscious Bazaar & Makers Market - 12 Talleres y charlas cortas - Meditación, Fitness y Yoga - Permacultura, estilos de vida holísticos, verdes y sostenibles - Bienestar, terapias, entrenamiento, lecturas intuitivas y sesiones de sanación energética - Arte, decoración del hogar y manualidades - Actuaciones en vivo y sanación con sonido - Cuidado personal, belleza y moda - Productos y servicios veganos y a base de plantas - Rueda medicinal, Baile extático y Ceremonia del Cacao - Actividades de la temporada para niños y mascotas - Restaurantes, panadería y camiones de comida vegana - Cuidado y servicios de animales
Web: www.healingartsexpo.com I Correo electrónico: healingartsexpo@gmail.com I Teléfono: 305-3369313 IG @healingartsexpo.