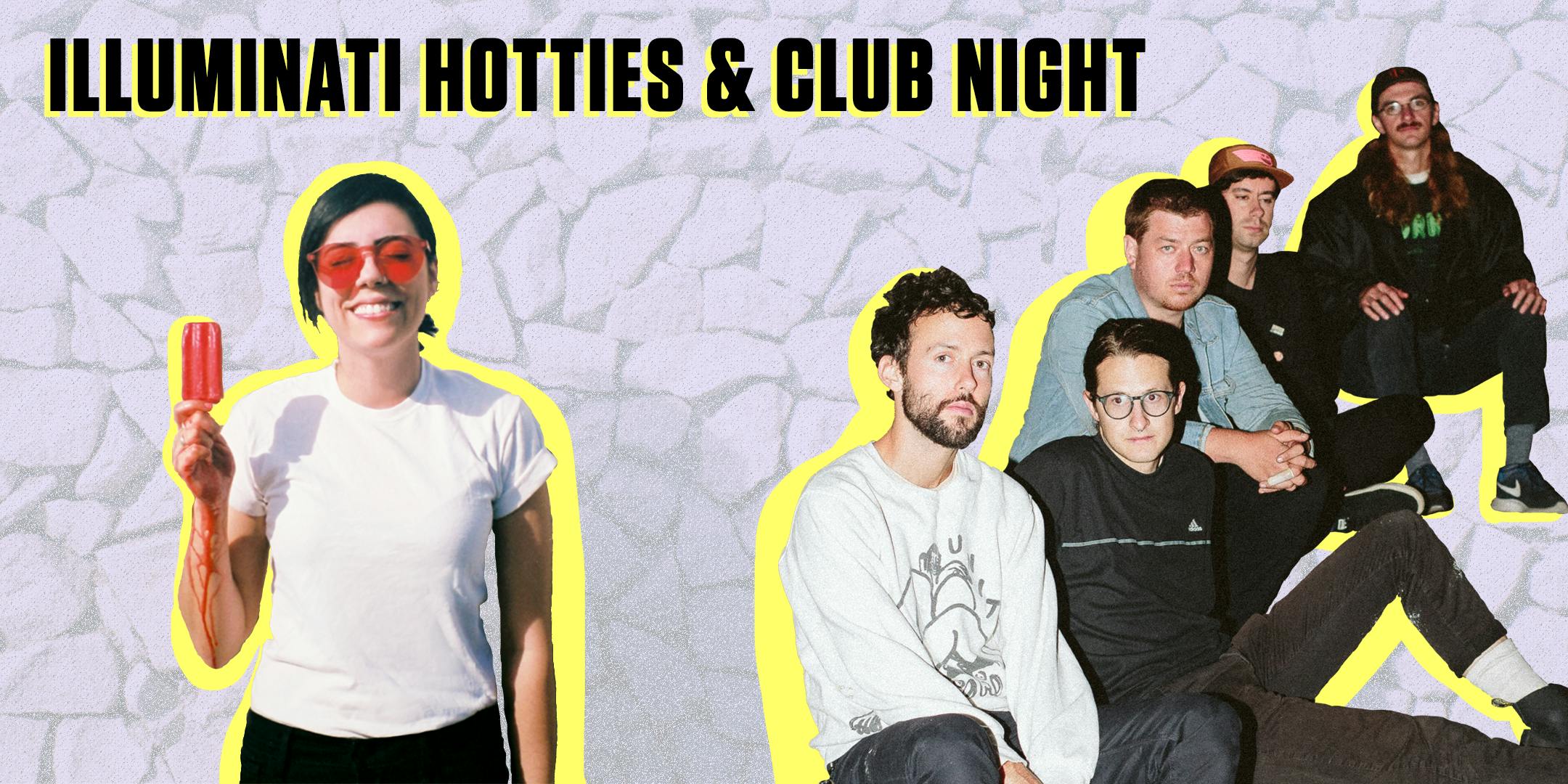 About this Event
Doors open at 7:00 PM. Show starts at 8:00 PM.
Starline Social Club is not yet ADA accessible. For questions regarding accessibility, please e-mail info@noisepop.com
illuminati hotties
Despite the pluralized nom de guerre, illuminati hotties is the creative outlet of Sarah Tudzin – a producer, engineer, and burrito aficionado hailing from the sprawl of Los Angeles. Armed with bright white shortveralls and a rotating line-up of Sarah's bffs, illuminati hotties has been lighting up stages across SoCal since Fall 2016 with playfully interweaving guitar lines, relentless rhythmic momentum, and strikingly self-aware vocals. Lauded as local "tenderpunk pioneers," illuminati hotties has perfected the blend of sweetness and ferocity, of celebration and despondency, in their soon-to-be released debut album, Kiss Yr Frenemies.
At first listen, illuminati hotties is a sun-drenched, irreverent volley with the onset of adulthood, but as the listener dives deeper, they will find an earnest consideration of musical phrasing and deliberately crafted wordplay regarding the complexity of love, loss, and skateboarding. illuminati hotties' live show challenges audiences to bring their deepest feels and fiercest moves to the floor, and has elicited comparisons to Best Coast, Angel Olsen, Courtney Barnett, and Alvvays.
After illuminati hotties' single and one-take music video "(You're Better) Than Ever" was released at the end of July, it received acclaim on many internet music sources, including September's edition of Blalock's Indie/Rock Playlist, Spotify's Fresh Finds, and as Best New Song on Indie Shuffle. illuminati hotties is looking forward to touring early 2018, as well as sharing their new LP and their best Los Angeles taco spot recommendations with the world.
Club Night
Club Night is drummer Josiah Majetich, bassist Devin Trainer, guitarist Ian Tatum, and guitarist/vocalist Josh Bertram. They formed in Oakland in 2016 and first gained attention with the release of their EP Hell Ya, a five-track array of rainbow-colored songs that evoked the mad eccentricity and creativity of early-aught indie bands. The members are all veterans of the Oakland indie rock scene, each bringing a distinct flavor to the group.
This project is a direct reflection of the group's disparate influences coming together in one space. Club Night perfect this experimentation on their beguiling debut album, What Life. The record boldly breathes compassion into the world through its fearless and profoundly unique musical offerings. The songs are jagged compendiums of contrasting moments—collections of sounds that refract and bend off each other before melding into one. Every song on What Life feels like a labyrinthine creation, running fearlessly from one sound to next, starting at times as downtempo bar ballads before bending into runaway math rock songs and culminating in anthemic blends of white noise, bellowing drums and triumphant vocals.
Bertram and Tatum's guitars wander, but not aimlessly—they amble together and sing in unison until they find that special moment when their output meshes succinctly with the crashing rhythm section of Trainer and Majetich and an otherworldly collection of synths and samples from Rebecca Lukens, creating a murmuring wall of dissonant sound. The myriad moving parts on the album reflect a selfless ethos, focused on finding a complementary set of dynamics for Club Night. While Bertram brings the rough structures of the songs into the studio via a guitar riff, each member of the band dissects the tune and contributes their own distinct flourishes while constructing the architecture of each composition.
Rising above the fray of the groups' collective noise—but just barely—is Bertram's inimitable voice. His high-ranging register climbs atop the din of noise surrounding the band, but he is not at war with the sonic landscape. Instead, the vast layers of sounds help propel his voice upwards, sharing his message with cathartic delivery. His lyrics are poetic and expressive, inspired and emotional, without delving into the realms of literalism.
Along with preaching for self-awareness and compassion, Bertram also illustrates messages of guilt and sadness. He conveys the fact that he may have escaped the early tormentors of his youth, but for countless others across the country, daily life is still met with hateful ignorance. Worse, those same tormentors are now emboldened by the xenophobic, racist systems in power. Within "Cherry," a tense, post-punk tune, Bertram sings about growing up in an area relentlessly unaccepting of any differences that fall outside of their own perceived realities— "I carefully kept this pristine terror from my old life on the rural atlas where I was born."
Throughout the album a theme of hope unfolds as the realization that once having found an honest sense of belonging in your community, you can finally be able to thrive without fear of shame. What Life pries into the fragile psyche of outsiders, but it's not an ode to defeatism. Existing is a struggle and Club Night will keep fighting—not with fists but with the connective power of empathy. (bio by Will Reisman)
SOAR
Bobby
Performers
Date and Time
Location
Refund Policy