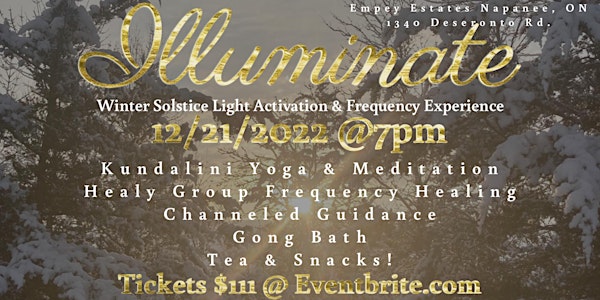 Illuminate: Winter Solstice Light Activation & Frequency Experience
Kundalini Yoga, Gong Bath, and Winter Solstice Healing & Frequency Event!
When and where
Location
1340 Deseronto Rd 1340 Deseronto Road Marysville, ON K0K 2N0 Canada
Refund Policy
Refunds up to 1 day before event
Eventbrite's fee is nonrefundable.
About this event
The Winter Solstice is a potent time to maximize the benefits of energetic practices. Practicing in community on this auspicious day is an experience you'll never forget!
This special event will focus on clearing Karmas to Illuminate your own unique path towards your Destiny and Dharma. We will open the heart, clear the subconscious mind, release angers and pain from the past and set the intention to move into 2023 with clarity, joy, passion and purpose!
We'll gather in sacred space and receive channeled guidance as we practice Kundalini Yoga & Meditation. We'll tune in and open our hearts to align with the current of miracles & clear our energetic fields. Participants will receive a group frequency healing and support throughout via the Healy Bioresonance Device, and integrate our work together with a deeply nourishing and relaxing Gong Bath/Sound Healing.
Stay after our practice for connection, community, conversation and reflection as we share tea and snacks to ground you.
Participants will also receive weekly group distance treatments leading up to the event (the sooner you sign up, the sooner you begin receiving these frequencies to maximize the benefit) and 1 group session afterwards. You'll also receive take home instruction for a practice to continue at home should you choose to maximize the benefit of the energy current we create together on the Solstice.
Jeni and Alicia have been receiving very strong guidance and synchronicities around this event and cannot wait to share their passion and experience the magic with you!
Together; they hold a deep reverence and connection to the teachings they bring through and are deeply honored to share them straight from their hearts.
Bring:Yoga mat
Blanket
Water
Layers of comfortable clothing
Journal & Pen
**Suitable for all experience levels....we honour our own pace and body's innate wisdom.
Arrive @6:45pm class begins at 7pm sharp!1340 Deseronto Road, Greater Napanee/Selby/Marysville depending on your GPS!
***Tickets are non-refundable but can be transferred to a friend in the event you can't make it.
About Jeni:
Jeni is a Psychic, Medium, Channel & Spiritual Teacher who resides in Odessa, ON.
"Kundalini Yoga has made such a huge impact on my mental, emotional and spiritual health. It has helped me quickly release trauma, clear my subconscious programming and limitations and put me on my true path in life! I am not the same person I was when I started! I am so excited to share what I have learned and provide a safe, non-judgemental space for you to come learn along with me...I am forever a student!"
Learn more about Jeni at her website: www.jenijuranics.com
IG: https://www.instagram.com/psychicmediumjenijuranics/
FB: https://www.facebook.com/psychicmediumJENIJURANICS/
About Alicia:
Alicia Wright Williams is a certified Reiki Practitioner and Kundalini Yoga & Meditation Instructor & Gong Practitioner
She's on a mission to share the tools and modalities that have dramatically changed her own life. Her guiding style demystifies Kundalini and makes it inviting and accessible for everyone while holding deep reverence for the technology. With a core belief that Love is the greatest power in the Universe & frequency is everything; she'll lovingly guide you to experience your own infinite wisdom and creative potential.
A deep intuitive calling to share the Gong and Frequency medicine this past year has led her to many wonderful spaces and communities. She weaves the Healy frequency device and Gong into many of her offerings, and looks forward to sharing space and connecting with you!
Follow Alicia on Social:
IG: https://www.instagram.com/alicia_wright_williams/
-----------------------------------------------------------------------------------------------------------
Liability Waiver
By purchasing a ticket, I hereby agree to the following:
1. I am fully aware of the risks and hazards involved in practicing yoga and yoga-related modalities.
2. I understand that it is my responsibility to consult with a physician prior to and regarding my participation.
3. I represent and warrant that I am physically fit and I have no medical condition(s) that would prevent my full participation in group or private yoga classes.
4. In consideration for being permitted to participate in group or private yoga classes, workshops and retreats provided by Jeni Juranics & Alicia Wright Williams, I agree to assume full responsibility and, on behalf of myself and, to the extent permitted law, my spouse, heirs, executors, administrators, assigns, and other persons or entities acting or purporting to act on my behalf, hereby generally and completely release, acquit, and forever discharge and release Jeni Juranics and Alicia Wright Williams, its owners, officers, directors, employees, instructors and representatives from any and all liability for any risks, illnesses, injuries or damages, known or unknown, which I might incur as a result of my participation. In further consideration thereof, I knowingly, voluntarily and expressly waive any claim I may have against the parties for any illnesses, injury or damages that I may sustain as a result of my participation.
I have read the above release and waiver of liability and fully understand its contents and voluntarily agree to all of the terms and conditions with the purchase of my ticket to the event.