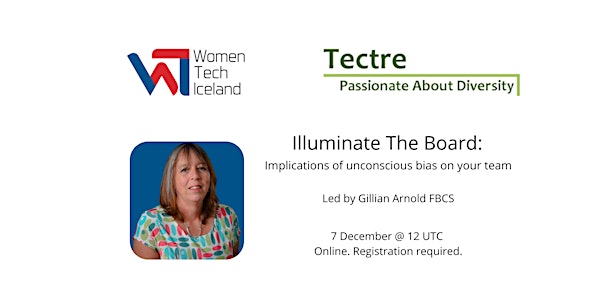 Illuminate the Board: Implications of unconscious bias on your team
Executives and Board Members will gain an overview understanding of unconscious bias, how it impacts teams, how to ID and eliminate it.
About this event
WomenTechIceland invites you to join us for this very special Executive lunchtime intro to Unconscious Bias.
In this 40-minute abridged version of Tectre's Executive and Board leadership course, "Illuminate the board" , Gillian Arnold, FBCS- MD, will use her extensive experience working on and with boards and trustees to facilitate a discussion and guide senior leaders through an overview of "What businesses need to think about" with regard to attraction and retention of a diverse workforce into their business. The session will include actions that the organisation's leaders can take to ID and eliminate stereotypes and unconscious bias as well as increase personal understanding, closing with "What can I do to help influence change?"
This event is free but registration is required. The session will be lead by Gillian Arnold, Founder of Tectre. Tectre provides training, consultancy, recruitment and inclusion courses & services to companies internationally, providing a pathway to diversity and inclusion.
Gillian recently spoke at UTmessan during the May 2022 event. She sits on the board for the Council of European Professional Informatics Societies (CEPIS), and will become President of BCS in Spring 2023, The UK Chartered Institute for IT. In 2021 Gillian published 'Women in Tech: A practical guide to increasing gender diversity and inclusion'. Click to learn more about Tectre.