Description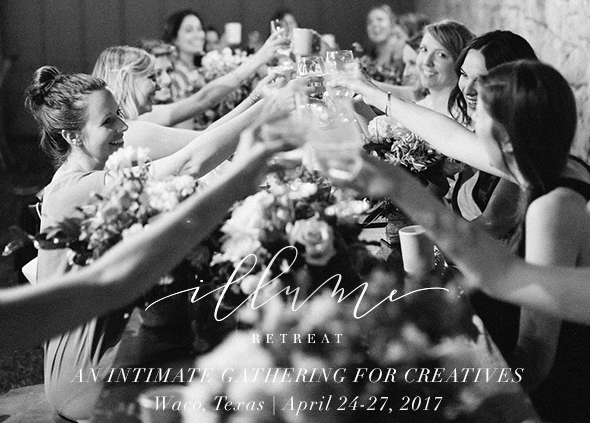 welcome, new friend!
Let me introduce you to the illume retreat, an intimately restful three-day retreat designed to inspire and empower creatives to build purposeful and intentional businesses that enable them to live, love and do business well. Surrounded by like-minded creatives, and warm-hearted industry leaders, join us for an escape from the hustle and pressures of chasing success while we invest in giving our businesses focus, engage in intentional community and hone in on what matters most.
the heart
The illume retreat was created to invest, love on and pour into creative business owners who seek to turn their businesses into thoughtful, heartfelt endeavors that are grounded on a strong sense of purpose. In our efforts to create a successful business, provide for our families and make a name for ourselves, we often forget that our businesses have the potential to offer us so much more than a paycheck. The illume retreat exists to help us refocus on building businesses that afford us the opportunity to bring authentic value to our lives and the lives of others, all while fueling our creative passions and achieving big goals! Through our unique approach of "productive rest," illume is for the creative who desires to refresh her spirit, the big dreamer who craves a way of doing business intentionally and from the heart, and the boss lady who seeks to walk away with a tight knit community of like-minded women who are cheering her onto a life well-lived.
the details
Escape with us in the small town charm of Waco, Texas for a three-day retreat from the status quo in true all-inclusive fashion. Together, we'll trade our laptops for warm cups of coffee savored in the company of just 8 like-minded creatives and big dreamers! From April 24 – 27, 2017, please join us for our most intimate retreat experience yet in what's sure to be a sweet time of refresh, relationship building, gleaning practical takeaways and intentional business planning. During this time, you will be encouraged and poured into by four industry leaders who are passionate about equipping you to build the intentional business of your dreams. With five sessions geared to impart practical information on creating from a place of truth, three hands-on creative sessions designed to spark your artistic sensibilities and teach you a valuable new skill, as well as dedicated small group time designed to help you really dig into this content, planned breakouts for planning and reflection, and thoughtfully curated surprises peppered in between, illume promises to be nothing short of lifechanging.
the investment
Early bird rates of $2,350 will be released on November 3, 2016 at 9am CST and are available on a first come, first serve basis. Payment plans are available, and seats are limited to just 8 in order to preserve the relational and personal nature of this retreat.
Tickets include:
Three full days of sessions led by no fewer than four industry leaders. Each session is carefully crafted to help you hone in on the heartbeat of your business, infuse purpose and intentionality into every facet of your business systems, and help you grow your business thoughtfully and authentically.

Three hands-on creative sessions for you to build community with attendees and speakers, learn from a talented creative and try your hand at a new skill, concept or art form. For our April dates, we will be learning intentional budget setting, and how to cultivate self-care into your routine (as well as how to define what "self-care" means to you!), and one additional session with topic TBD.

Dedicated reflection time designed to give you an opportunity to absorb the day's sessions, set goals, dream big and dig deeper into the heart of your business.

Plenty of face-to-face time with each speaker and breakout leader throughout the retreat.

Three nights accommodations (April 24, 25 and 26) at the beautiful Harp House, as seen on Fixer Upper Season 1, for a truly cozy, relaxing atmosphere. Rooms are available with shared king beds, or private queen or twin beds. Through our fun attendee questionnaire, we'll pair you with the perfect roommate for the ultimate girls' getaway experience! Two private room upgrades are available for a nominal fee.

A beautifully styled welcome dinner at 7 pm on April 24, and an equally beautiful farewell dinner on the evening of April 26, as well as all meals, snacks and nonalcoholic beverages for the entirety of the retreat. Breakfast on the morning of April 27 will be provided at your Airbnb directly to see you off on your travels with a full heart and stomach! Please note that all meals, snacks and beverages can be modified to meet any dietary restrictions. In total, your registration includes 8 meals.

Thoughtfully curated gifts and surprises throughout the retreat designed to encourage, refresh and spoil you!

Transportation to and from all retreat events. Please note that attendees are responsible for securing their own transportation to and from the airport for both arrival and departure.
For questions, sponsorship opportunities, roomie requests or just to get in touch, contact Bonnie directly at bonnie@bisforbonniedesign.com.