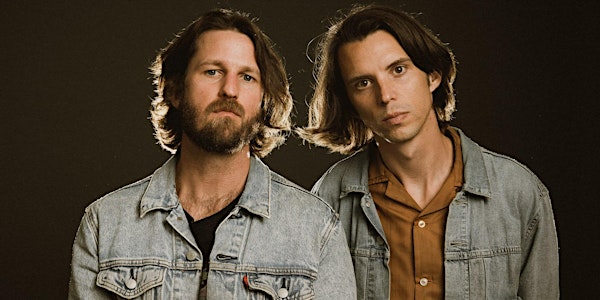 Location
DC9 Nightclub
1940 9th St NW
Washington, DC 20001
Illiterate Light

WEBSITE | FACEBOOK | INSTAGRAM | TWITTER | SPOTIFY

Formed in the summer of 2015, Illiterate Light transcend expectations of typical rock music through their limitations as a duo. Jeff Gorman elevates his gritty guitar melodies and honest lyricism by stomping out thunderous synth bass with his feet as Jake Cochran layers lush vocal harmony and explodes with body convulsing energy around his minimalist standing drum kit. Gorman and Cochran's incessant writing, commanding live performance, and constant touring promise a bright future as they finish their debut album with Vance Powell (Jack White, Kings of Leon, Chris Stapleton) and Adrian Olsen (Foxygen, Natalie Prass). "Better Than I Used To" is the first taste of what's to come from Illiterate Light.

Spanning the better part of a decade, the creative evolution between Gorman and Cochran is far from ordinary. The duo has run an organic farm in the Shenandoah Valley, toured the mid-Atlantic in bands by bicycle, and lived in small communities while pursuing modes of alternative education. Their eclectic background is mirrored in their sound and lyricism, floating between postmodern confusion and vibrant optimism. Though shaped by the DIY music scene of their hometown Harrisonburg VA, the duo has grown immensely through immersion in the thriving communities of both Richmond, VA and Nashville, TN.

Palmyra

WEBSITE | FACEBOOK | INSTAGRAM | SPOTIFY | BANDCAMP

Drawing from the sounds of Appalachia and Midwestern Americana, Palmyra captures the collective spirit of three Virginia natives. With an ever-expanding sonic palette, Palmyra's live set explores the fusion of traditional folk string instruments, foot percussion, and electronic sequencers and synthesizers. The burgeoning trio sounds like a distant cousin of the progressive folk band, Punch Brothers, mixed with elements of Fleet Foxes or the Avett Brothers. Palmyra's songs are intimate and contemplative, with three-part vocal arrangements that allow them to create the illusion of a full, larger-than-three ensemble. Palmyra met in the Shenandoah Valley, which is incredibly apparent through their stirring craftsmanship and dedication to create a folk-driven, innovative experience through their live performances.