Description
Dear Colleagues,
We are excited to announce that this year's 2019 TRIO Day North Celebration will be held at Triton College on Saturday, February 23, 2019.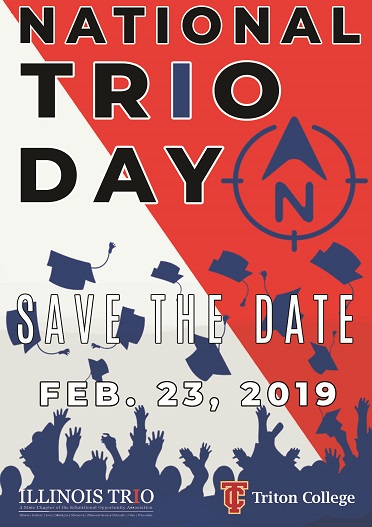 The theme for this year's event is:
G.A.M.E Changers
(Growth Above Marginalized Expectations)
The planning committee is developing an informative, educational and entertaining event that will empower students to reach their full potential. The committee has included workshops and activities that will accommodate students at all levels (secondary and post-secondary). The conference will encourage and deepen student knowledge through engaging workshops aimed at establishing academic success and creating G.A.M.E. Changers to continue trailblazing.

Sincerely,
TRIO Day North Chairs
Denise Jones and Melanie Olivera-Jones
Student Support Services
Triton College
2000 Fifth Avenue
River Grove, IL. 60171
Phone: (708) 456-0300 ext. 3484
Email: denisejones@triton.edu
---
All invoices and W-9 forms need to be requested to Illinois TRIO Treasurer at illinois-treasurer@eoa.org
Checks need to be written as shown below:
Illinois TRIO
540 N. Dearborn
PO Box 10930
Chicago, IL 60610
*Once a registration has been submitted, the Treasurer will email registrants an invoice and the official registration form to solicit attendee names and t-shirt sizes.
Registration Payment Policy:
Registration is $38.00 per person. All full registration payments must be received within 30 days of receiving the invoice from the treasurer. There will be no on-site registration. REGISTRATION will be open from January 7-February 6, 2019.
Refund Policy:
Registration fees paid in advance are refundable in the following manner:
Written notice of cancellation must be received no later than 11:59pm (CST) on February 11, 2019, in order to be refunded 80% of total registration fees paid. Any written cancellations received between February 12 and February 15, 2019 (11:59pm CST), will be refunded 50% of total registration fees paid. There will be no refund eligibility after February 15, 2019. Paid registrations resulting in a "no show/no contact" will also not be eligible for a refund.
---
TRIO Day North
Agenda
Registration & Breakfast~9:00 a.m.-9:45 a.m.
President Welcome & Remarks~9:45 a.m-10:15 a.m.
President- 9:45 am-9:50am
State Representative Welch-10:05-10:15am
Breakout for Worshops~10:15 a.m.-10:30 a.m.
Concurrent Workshops
Session One- 10:30 a.m.-11:20 a.m.
Session Two- 11:30 a.m.-12:15 p.m.
Lunch-12:30 p.m.-1:30 p.m.
Keynote Address 12:45- 1:30pm (Guest Speaker)
Post-Card Campaign- 1:30pm -1:50pm
Entertainment-Battle of the Bands- 2:00p.m.-2:45 p.m.
Closing Remarks/Acknowledgements-2:45 p.m.-3:00 p.m.