Description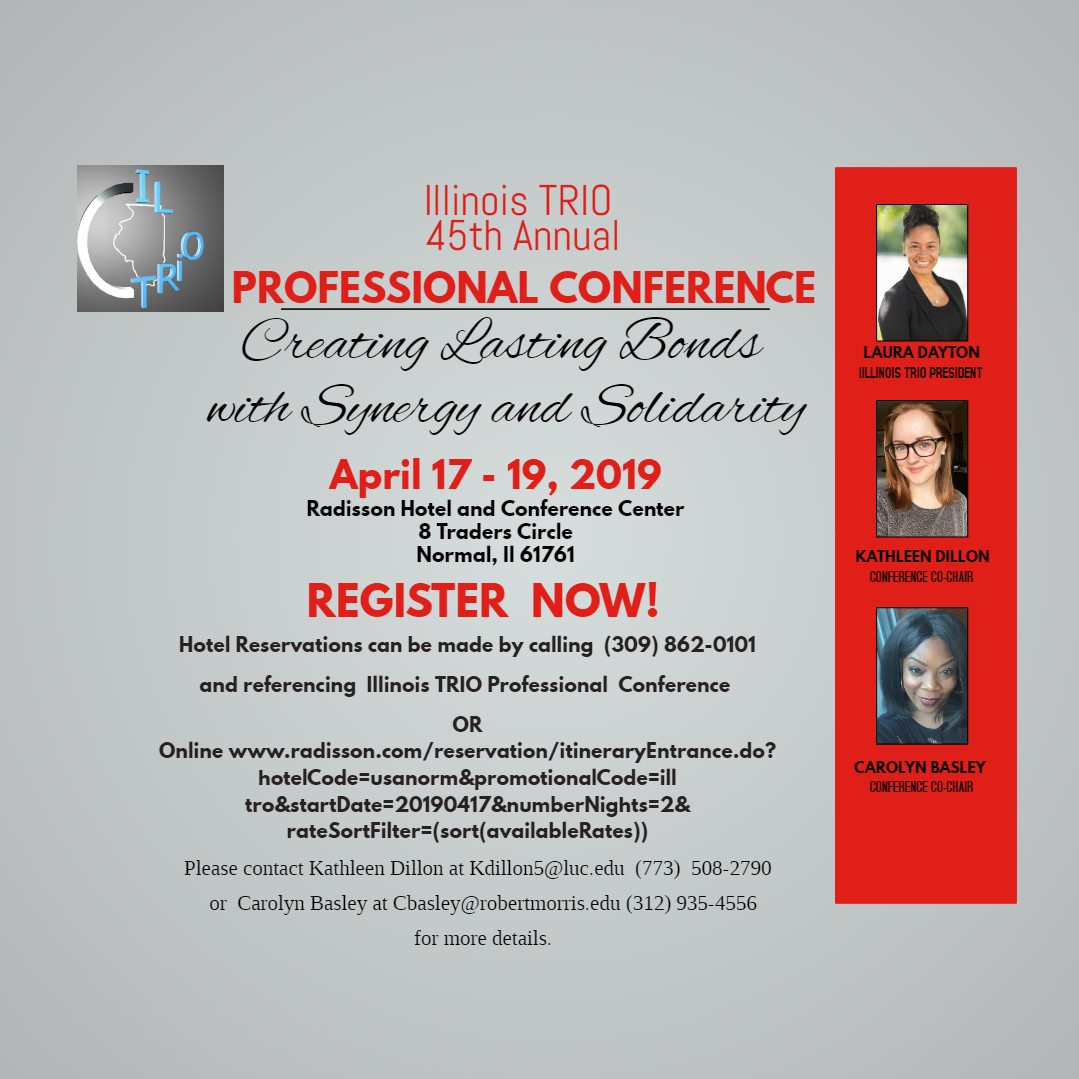 Greetings Illinois TRIO!
On behalf of the Chapter, I would like to invite everyone to our 45th Annual Professional Development Conference on April 17-19,2019 at the Radisson Hotel and Conference Center in Normal, IL. Our theme this year is Creating Lasting Bonds with Synergy and Solidarity! It is our desire that, TOGETHER during this conference, we can impact our Association by connecting people to opportunity, encouraging collaboration, and fostering a sense of community.

The conference will officially begin the evening of Wednesday, April 17, 2019 with registration at 5:00pm and our Newcomer's reception at 6:00pm. Immediately following our Newcomer's reception will be our Welcome/Opening with a speaker you will not want to miss! To top off the evening we will have a book signing by Immediate Past President Dr. Nayshon Mosley on her labor of love titled Truthfully Speaking! To conclude the conference we will have a donation drive to give to a local shelter in Bloomington. MORE info to come!
The conference will offer a variety of speakers from the state, regional, and national level. Concurrent sessions will target the tracks of Higher Ed Institutions vs. Non-Profit Organizations, Administration vs. Specialists, and Specific Programs. Possible topics may include but are not limited to:
Financial Literacy
Technology
Government Relations and Advocacy
International Access and Study Abroad
Resources for Undocumented Students
Recruitment and Retention Strategies
STEM Education
The New SAT
Alumni Tracking Resources
Addressing Mental Health Issues
Legislation and Regulations
Program Best Practices
Fostering Student Civic Engagement
Relationship Building (Student vs. Staff)
Staff Management Best Practices
Building Relationships with EOP Programs
Sustaining Relationships with your Program/School/Community
Self-Care vs. Burnout
Hotel Accommodations
Radisson Hotel and Conference Center Normal
8 Traders Circle Normal, IL 61761
Reserve via phone by calling 309-862-0101 and referencing Ilinois TRIO Professional Conference
Reserve online by clicking the link below
IL TRIO room link $89.00 + tax
Room Block will close on 3/17/19. Any reservations made after this date will be charged the regular room rate, so if you plan on attending, please reserve your room before the 17th!* There is NO fee needed to reserve your room just a credit card to hold your reservation.
Registration Payments
Credit Card (you will receive a receipt)
Check (you will receive an invoice and receipt)
Please mail checks to:
Illinois TRIO
540 N. Dearborn
PO Box 10930
Chicago, IL 60610
Registration Payment Policy:
All full registration payments must be received within 30 days of receiving the invoice from the treasurer. There will be no on-site registration.
Early Bird Registration

: Any registrations between the dates of February 15 thru March 15, 2019, will be charged the Early Bird Rate.

Regular Registration

: Any registrations between the dates of March 16 thru April 5, 2019, will be charged the Regular Rate.

Late Registration

: Any registrations between the dates of April 6-April 12, 2019, will be charged the Late Rate.
Refund Policy: Registration fees paid in advance are refundable in the following manner:
Written notice of cancellation must be received between the dates of February 15 and March 15, 2019, in order to be refunded 100% of total registration fees paid. Any written cancellations received between March 16 and April 5, 2019, will be refunded 50% of total registration fees paid. ALL refunds will be processed within 30 days concluding the event.
There will be no refund eligibility after April 6, 2019. Paid registrations resulting in a "no show/no contact" will also not be eligible for a refund.
Please contact the treasurer at illinois-treasurer@eoa.org if you need a W-9 form or other payment-related questions. Contact the Conference Co-Chairs, Carolyn Basley at cbasley@robertmorris.edu or Kathleen Dillon at kdillon5@luc.edu for all other questions.
Thank you for your support and we look forward to seeing you at the conference!
TENTATIVE AGENDA
Wednesday, April 17, 2019
5:00 pm-7:00pm
Registration opens
6:00 pm-7:00 pm
Newcomer's Reception
7:00 pm-8:00 pm
Opening/Welcome Speaker
8:00 pm-9:00 pm
Dr. Mosley's Book Signing/Evening Reception
9:00pm
Networking/socializing
Thursday, April 18, 2019
8:00 am-12:00 pm
Registration
8:00 am-9:00 am
Breakfast (COE update)
9:30 am-11:30 am
General Assembly Meeting
11:30 am-12:00 pm
Break
12:00 pm-1:30 pm
Lunch: (EOA Update)
1:45 pm-2:45 pm
Concurrent Sessions
3:00 pm-4:00 pm
Concurrent Sessions
4:15 pm-5:15 pm
Concurrent Sessions
5:15 pm-7:00 pm
Break
7:00 pm-9:00 pm
President's Banquet: Black and White Affair with a Hint of Color
9:00 pm-10:30pm
President's Dance
10:30 pm
Networking/Hospitality
Friday, April 19, 2019
8:00 am-9:00 am
Breakfast/State of the State Speaker
9:15 am-10:30 am
(Donation Presentation)
10:30 am-11:00 am
Closing Remarks & Evaluations
11:30 am
Presentation to Shelter (Executive Board)