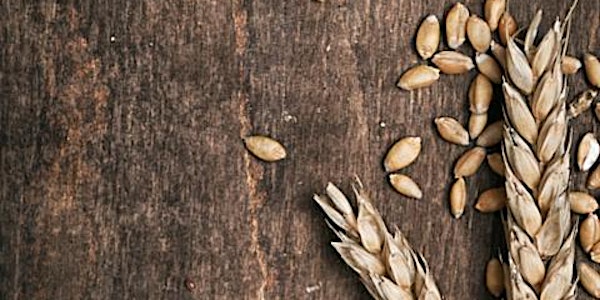 Illinois Local Grains and Local Markets
When and where
Location
Janie's Farm 854E 2300N Danforth, Illinois 60930
Refund Policy
Contact the organizer to request a refund.
Description
PLEASE REGISTER TO ATTEND THE FIELD DAY AT JANIE'S FARM, NO REGISTRATION NECESSARY TO ATTEND WORKSHOP AT THE UNIVERSITY OF ILLINOIS CAMPUS.
---
Workshop
September 9, 2016
Monsanto Room, ACES Library
University of Illinois at Urbana Champaign
Friday, September 9, 2016
8: 00 am to 12:00 pm.
Presentations and discussions in this workshop are designed to raise awareness of the potential for regionally adapted grain to serve growing local and regional markets.
The program will begin at 8:00 a.m. with presentations starting at 8:30 a.m. Speakers include Bill Davison from Illinois Extension, Allison Krill-Brown from the Department of Crop Sciences-University of Illinois, Frank Kutka from the Northern Plains Sustainable Agriculture Society, and Julie Dawson (Keynote address) from the University of Wisconsin-Madison.
Frank Kutka is a plant breeder and the co-coordinator of the Northern Plains Sustainable Agriculture Society Farm Breeding Club. He grew up in southeastern Wisconsin, studied ecology, and then studied sustainable agriculture and plant breeding. He worked as a Scientist for the University of Minnesota, and as the State Coordinator for the USDA Sustainable Agriculture Research and Education Program in the Dakotas. In his current work, he has been developing of a yellow dent corn that has the ability to prevent cross-pollination with GMO corn. That work builds up on approximately 20 years of experience with corn breeding for the organic farming sector.
Julie Dawson will present a keynote address. Julie is an Assistant Professor in the Department of Horticulture at the University of Wisconsin-Madison. Her background is in organic wheat breeding and participatory research. Before arriving at UW Madison, she was a postdoctoral researcher on a project about value-added grains for regional food systems at Cornell University. This included variety trials in organic systems and quality testing for artisanal breads. Prior to that she worked as a postdoctoral researcher in France, where she contributed to the creation of a participatory wheat breeding program with an association of organic farmer-bakers. She received her PhD from Washington State University, working with Dr. Stephen Jones on organic and participatory wheat breeding.
For more information about the workshop, contact Carmen Ugarte at cugarte@illinois.edu or Bill Davison at wdavison@illinois.edu
Illinois Local Grains and Local Markets Field Day
9:00 a.m. Registration at the Shop Janie's Farm 854E 2300N, Danforth IL 60930
10:00 a.m. Presentations in the shop by Harold and Ross Wilken on their experience on on-farm selection and milling at Janie's Farm, Fred Kolb and Allison Krill-Brown on the U of I efforts to develop wheat varieties suitable for Illinois, and a discussion on participatory crop breeding led by Frank Kutka, founder and co-coordinator of the Northern Plains Sustainable Agriculture Society Farm Breeding Club.
12:00 p.m. Lunch ($12/person pre-ordered, with a limited number of on-site at $15/person) will include foods made from locally sourced grains prepared by local chefs!
1:00– 3.00 p.m. Field tours will include the mill and ongoing corn and bean variety trials.
WHERE: Janie's Farm – 854E 2300N, Danforth, Illinois 60930
These events are co-sponsored by the Agroecology and Sustainable Agriculture Program at the University of Illinois, Illinois Extension, and the Illinois Organic Growers Association.
https://www.eventbrite.com/e/illinois-local-grains-and-local-markets-tickets-26641236656