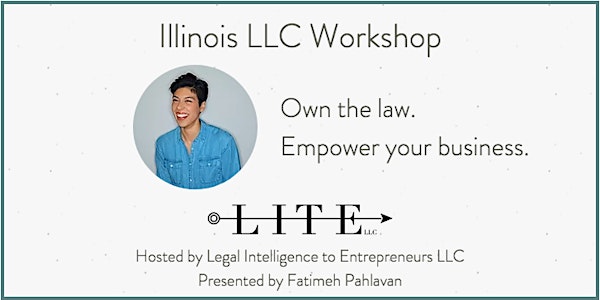 Illinois LLC Workshop Hosted by LITE
Ask a lawyer your burning questions, and get concrete guidance on how to set up and maintain your Illinois LLC.
Refund Policy
Contact the organizer to request a refund.
Eventbrite's fee is nonrefundable.
About this event
This webinar is hosted by LITE. For more details, visit litecounsel.com.
OVERVIEW
This workshop includes two hours of lecture and discussion. You will receive a detailed instruction manual that outlines everything you need to know to form your LLC, plus templates to support you as you go.
DETAILS
Our discussion will address:
- How to form your LLC
- How much it will cost
- How to pay yourself
- How to prepare to pay business taxes
- Best practices for protecting yourself and your assets
- Updating your LLC as your business evolves
AUDIENCE
This course is for entrepreneurs based in Illinois who are ready to form an LLC and seek detailed guidance for doing so.
FREQUENTLY ASKED QUESTIONS
What should I expect from this workshop?
You will not form your LLC during the workshop, but you will leave with all the tools and education that you need to form your LLC in Illinois.
Does the cost of this workshop include fees for forming an LLC?
No. The cost of this workshop covers only lecture and educational materials.
I want to organize my LLC somewhere other than Illinois. Is this course still relevant for me?
Maybe. It depends on what you're looking for.
60% of this workshop is devoted to explaining what an LLC is, and how all of the pieces related to business formation fit together. You don't organize your LLC in a vacuum. There are tax, licensing, and other professional implications. LITE contextualizes all of that information and demystifies the law as it applies to each topic. This element of the workshop is relevant and valuable no matter where your business is based.
40% of this workshop provides step-by-step instructions for how to form an LLC in Illinois. This information is state-specific, and only relevant to entrepreneurs based in Illinois.
If I can't make it, when will this workshop next be offered?
This is the final time this workshop will be offered for the foreseeable future.
Will this workshop be recorded so that I can access the information later?
The workshop will be recorded and attendees will have an opportunity to revisit the content for a period of 10 days after the workshop has ended.
What tools or background do I need to participate?
This workshop begins with the basics. So all you need to participate is a basic business plan, a computer with an internet connection, and a healthy dose of caffeine. :)
Is it really safe for me to form my LLC myself?
Yes, assuming your business dynamics are simple.
If you are a solopreneur bootstrapping a straightforward business plan, you are likely capable of organizing your own business entity.
But as your business grows, things will become more complicated. You'll have to start thinking about filing as a foreign entity in other states, electing a different tax status, allocating authority to employees and managers within the business while maintaining limited liability, maybe even recruiting a board of advisors. A lawyer's advice is invaluable in this context and you should not be performing this work alone.
This looks amazing! Why would I bother hiring a lawyer if I can just take this workshop?
Don't confuse lawyering with document drafting.
A lawyer should not simply be filling in template documents and charging you for it. Rather, a lawyer's value lies in her ability to, at a minimum:
- Learn about your business and anticipate conflict particular to your circumstances
- Design procedures that mitigate your business risk and effectively address conflict
- Communicate such procedures in unambiguously drafted legal documents
To give you a sense of the difference between DIY and outsourced legal work, the typical Operating Agreement drafted by LITE is about twice as long as the template provided in this workshop.