Illinois workNet is holding a Virtual Job Fair for the Illinois House of Representatives.
About this event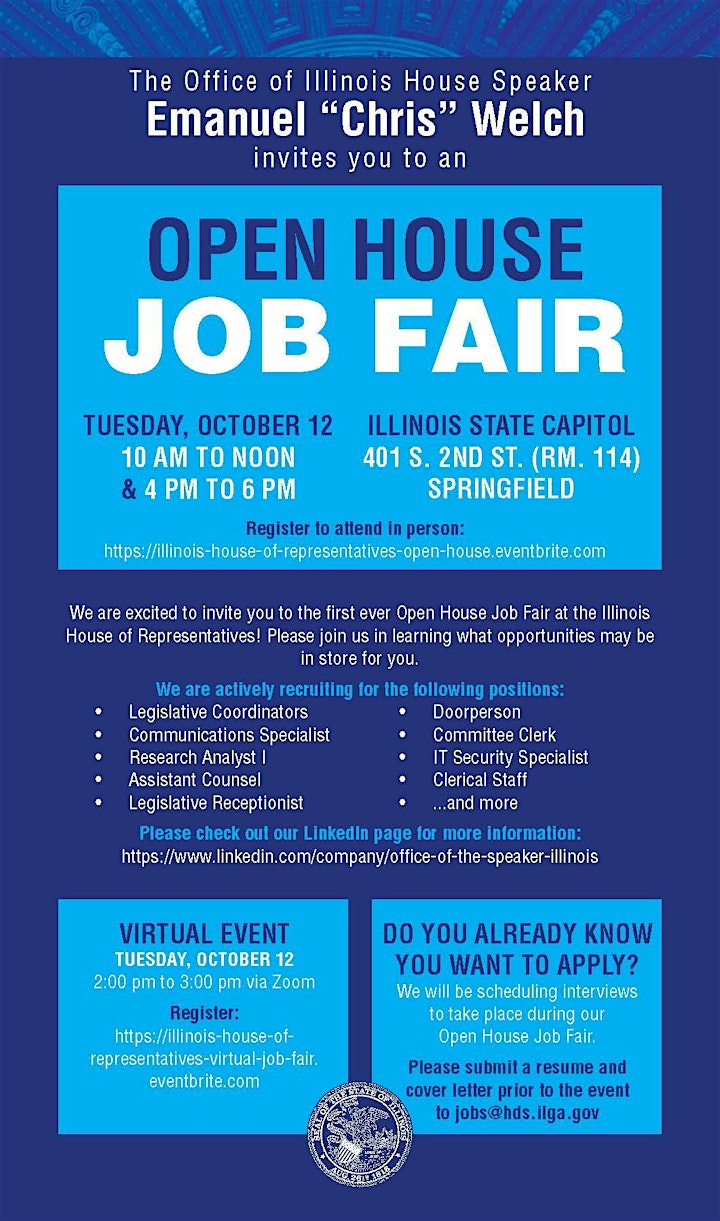 Illinois workNet has partnered with the Illinois House of Representatives to hold a Virtual Job Fair featuring career opportunities available within the Office of the Speaker and the Office of the Clerk of Illinois House of Representatives.
The following units/presenters will be in attendance:
Justin Cox, Chief Counsel to the Speaker and Director of the Technical Review Unit
John Hollman, Chief Clerk of the House
Mark Jarmer, Director of the Research & Appropriations Unit
Kylie Kelly, Deputy Director of the Issues Development Unit
Please join us via zoom and learn what opportunities may be in store for you.
The Illinois House of Representatives is actively recruiting for the following positions:
Legislative Coordinators
Communications Specialist
Research Analyst I
Assistant Counsel
Legislative Receptionists
Doorperson
Committee Clerk
IT Security Specialist
Clerical Staff
…and more
Staff members in the Office of the Speaker and Office of the Clerk work to support members of the Illinois House of Representatives with research, policy, legal, communications, and operational services as they endeavor to represent their districts and craft the laws of our state. As public servants, we are committed to showing respect for all people, continuously learning, and valuing the creative ideas and innovation that come from a professional, ethical, inclusive, and collaborative workplace.
Do you already know you want to apply? We will be scheduling interviews to take place during our Open House Job Fair. Please submit a resume and cover letter prior to the event to jobs@hds.ilga.gov
Please check out our LinkedIn page at https://www.linkedin.com/company/office-of-the-speaker-illinois for more information.
After Registering for the Virtual Job Fair:
Organizer of Illinois House of Representatives Virtual Job Fair
Illinois workNet® connects individuals, employers, education and workforce partners to resources and services for achieving training and employment goals.
Illinois workNet utilizes partnerships and technology to expand seamless and real-time access to workforce development resources aimed at Individuals, Businesses, and Workforce and Educational Partners.