Sales Have Ended
Registrations are closed
Unfortunately, registration for this event has closed.
Sales Have Ended
Registrations are closed
Unfortunately, registration for this event has closed.
Description
GET CERTIFIED TO PERFORM DIAGNOSTIC TESTS REQUIRED FOR ILLINOIS HOMES!
On January 1st, 2016, the State of Illinois updated the Illinois Energy Conservation Code (based on the 2015 International Energy Conservation Code (IECC) with (Illinois Amendments) through the Illinois Energy Efficient Building Act [20 ILCS 3125].ink is externa

As part of the energy code, blower door testing is required to demonstrate new residential homes maintain an air leakage rate no more than 5.0ACH50. Duct tightness testing is also required where the air-handler or any portion of the ducts are located outside the building pressure boundary.
Ameren Illinois working in concert with the Midwest Energy Efficiency Alliance will host DET training events at John A. Logan College in Carterville IL, August 24th, 2017 and again at the North Campus of Illinois Central College located in Peoria IL, August 28th, 2017.
The Blower & Blaster Basics DET Certification event is a comprehensive, one-day course designed to introduce both beginner and intermediate-level participants to the skills necessary to become an Illinois Diagnostic Energy Tester, certified to perform the necessary duct and envelope tightness tests required for new homes by the Illinois Energy Conservation Code
This training is presented by BuildRIGHT Illinois, Inc., and supplemented as a part of the Illinois Home Performance (IHP), Building Science Training Series (BSTS). The BSTS draws upon local and regional experts to impart specific technical skills to local contractors. The courses address topics identified as relevant for Illinois contractors in order to prepare them for quality whole-home energy upgrade work and participation in the IHP program. .
About the Instructors: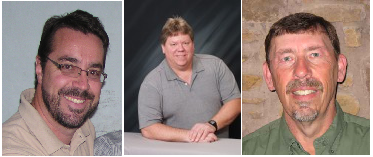 Darren Meyers, P.E., CEM, BPI-BA, HVAC-QAP, is President of International Energy Conservation Consultants and has been the Illinois State Energy Office and Chicago Department of Buildings' subject matter expert on energy codes since 2006. Mr. Meyers brings a national-level reputation and expert-level understanding of the manner in which model energy and sustainable construction codes are developed, adopted, enforced and implemented in the field. Darren is the former Technical Director of Energy Programs for the International Code Council.
Brian Kumer, BPI-BA/EP/M-F, is President of Thermal Imaging Services, a Level One thermographer, BPI Test Center trainer, written and master field proctor, instructor for the Illinois Weatherization Assistance Program for "Infrared Technologies", and Illinois Home Performance (IHP) Building Science Hot Line expert. He has trained and tested hundreds of contractors in BPI certifications in the region, while providing ongoing support for contractors, utility programs, homeowners and business owners.
Tim Gibson, BPI-BA, HERS, NAHB CGP, is the Director of Buildings & Grounds for John A. Logan College (JALC). A former building contractor and faculty member in the Construction Management Program and Department of Applied Technology at JALC, Tim is a state certified IHWAP instructor, and a USGBC GPRO instructor. His work with the Illinois Green Economy Network includes facilitating the IHP Equipment Loan Program, and serving as the Program Manager for the IGEN Behavior Change for Energy Efficiency Program.