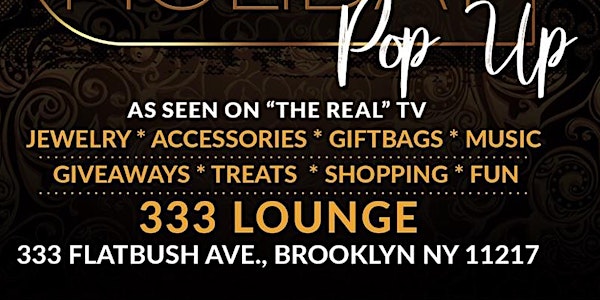 iLLASPARKZ.COM IS HOSTING A HOLIDAY SHOPPING POP UP
When and where
Location
333 LOUNGE 333 FLATBUSH AVE BROOKLYN, NY 11217
Description
iLLASPARKZ has been all about expressing your individual style and personality! iLLASPARKZ The Accessory Mall has thousands of pieces to choose from!!! A pure collection of question asking, head turning, eyes brightening Jewelry and Accessories….. It's every Girls Dream!!
BESIDES ONLINE, LETS MEET AT 333 LOUNGE (IN BROOKLYN, BLOCKS FROM BARCLAYS CENTER) FOR A HOLIDAY SHOPPING POP UP PARTY!!
There are ID and/or minimum age requirements to enter the event.
Please bring your printed ticket to the event.