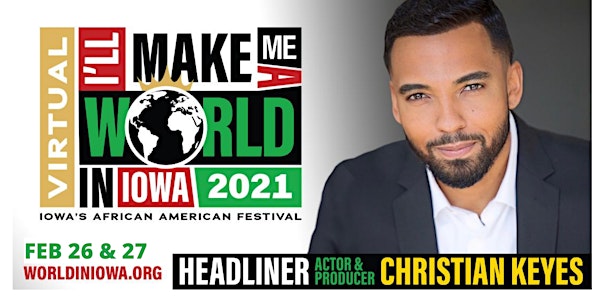 I'll Make Me a World in Iowa - Iowa's African American Festival '21 Virtual
In 2021 Iowa's African American Festival goes virtual! Christian Keys Headlines! Register & Enjoy it LIVE in your living room!
About this event

I'll Make Me a World in Iowa 2021 Virtual Festival
In response to the Global Pandemic I'll Make Me a World in Iowa is meeting the challenge of delivering an honored, cherished event by going virtual in our own unique way. This year Celebration Day and Education Day will be presented virtually on our customized platform. This will enable participation from across the state and beyond. It will allow I'll Make Me a World in Iowa to present programing that continues to lift up the contributions of the African Americans, especially if we look at the historic challenges that 2020 shed light upon.
Iowa's African American festival will deliver an exciting festival celebrating I'll Make Me a World in Iowa's status as the first major festival of the year; the culmination of Black History Month in our state; the home of Iowa's newest official state song (titled "I'll Make Me a World in Iowa"); and as the inspiration for other major ethnic festivals with thousands in attendance.
*This event requires registration. Event Link will be send the week of the event.

Virtual Celebration Day will include:
A main stage with large presentations including our headliner and the Heritage Legacy Awards
Headliners Christian Keyes & Your Queens
Iowa performances
Virtual visits to historic sites around Iowa
Art, history, cultural & lifestyle workshops
Wellness activities including a morning pump up along with health & wellbeing workshops
Virtual Exhibitors & Vendor Opportunities
Great contest, prizes, community, connections and so much more!


Celebrate your heroes! Click Here to nominate someone for the Heritage Legacy Awards! Deadline is February 19, 2021.

Also if you are an educator or a parent, register your students for Education Day! It's a Virtual Field Trip! Register at www.worldiniowa.org.