Description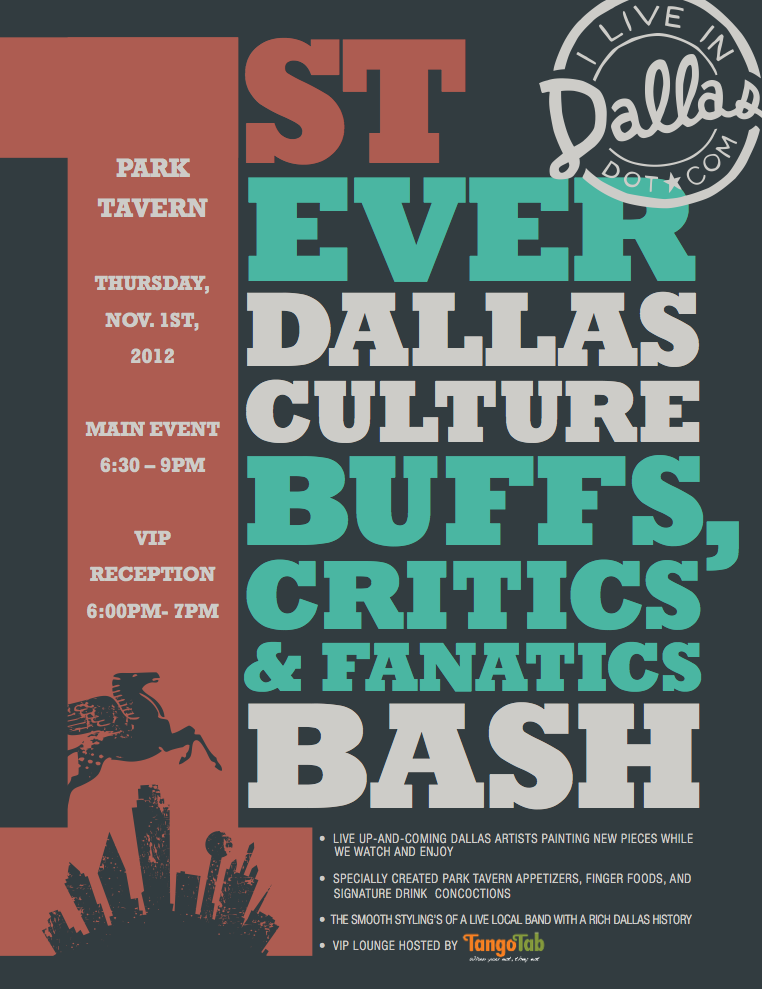 You're invited to ILiveInDallas.com's 1st Ever Dallas Culture
Buffs, Critics & Fanatics Bash!
This event is a unique celebration of Dallas arts, entertainment, and more. Who are you? You are the lovers of art, the seekers of unique dining experiences, the film and theater critics, foodies and cinephiles, the tastemakers and the trendsetters. For those of you that chronicle your experience, you are the Independent Dallas Media Moguls, the Dallas Bloggerati.
This year ILiveinDallas.com was fortunate to win D Magazine's 2012 Readers' Choice for "Best Dallas Blog." In 2011, ILiveinDallas.com won CBS Local's 2011 "Most Valuable Blogger." This celebration is a thank you to all those who helped make it possible (you).
Come experience:
• Live up-and-coming Dallas artists painting new pieces while we watch and enjoy, provided by ArtLoveMagic
• Specially created Park Tavern appetizers, finger foods, and signature drink concoctions
• The smooth styling's of a live local band with a rich Dallas history, provided by Joel Pipkin
• Community and camaraderie with fellow Dallas culture fans, critics, and writers
• VIP Lounge hosted by TangoTab
• Silent auction with all proceeds going toward adopting an ArtLoveMagic Kids Workshop in 2013
Twitter Hashtags: #ILiveInDallasBash
Organizer of ILiveInDallas.com's 1st Ever Dallas Culture Buffs, Critics & Fanatics Bash
ILiveinDallas.com is a Dallas-based Arts and Entertainment online publication and radio show covering art, dining, music, theater, tech that receives nearly 600,000 visitors a year.