About this Event
MEETING ON 21st FLOOR
If you watch television, you've seen the show where a successful businessman comes in, invests and takes over a struggling business. There's something to be said for figuring out your process, knowing what it costs you to produce an event and articulate that to a client. Creatives especially struggle with this task - defining who they are, what they are worth and how they work in order to get a client to purchase their design. Further, how do you articulate that on a proposal and show your client your creative in order for them to buy your design ideas? This meeting covers all things process to proposal for the highest possible profit.
Join celebrity wedding and event designer Sasha Souza who is internationally recognized as a trendsetter, top innovator, and leader in the wedding and events industry. Owner of a prominent event design company Sasha Souza Events since 1995, Souza is one of only a handful of wedding designers who have been named as a Master Bridal Consultant. Souza is the recipient of numerous awards and was named by Modern Bride Magazine as one of the first Top 25 Trendsetters in the wedding industry.
Souza is also a former Events Chair for the SEARCH Foundation and was the Founding President of the National Board of Directors for Wish Upon A Wedding from 2009 – 2013. Sasha's speaking engagements have taken her around the world from the Caribbean to Japan to educate and motivate her peers. Her Consultancy for Creatives also provides the wedding and hospitality industry professionals and venues with the valuable advice on how to take their business to the next level.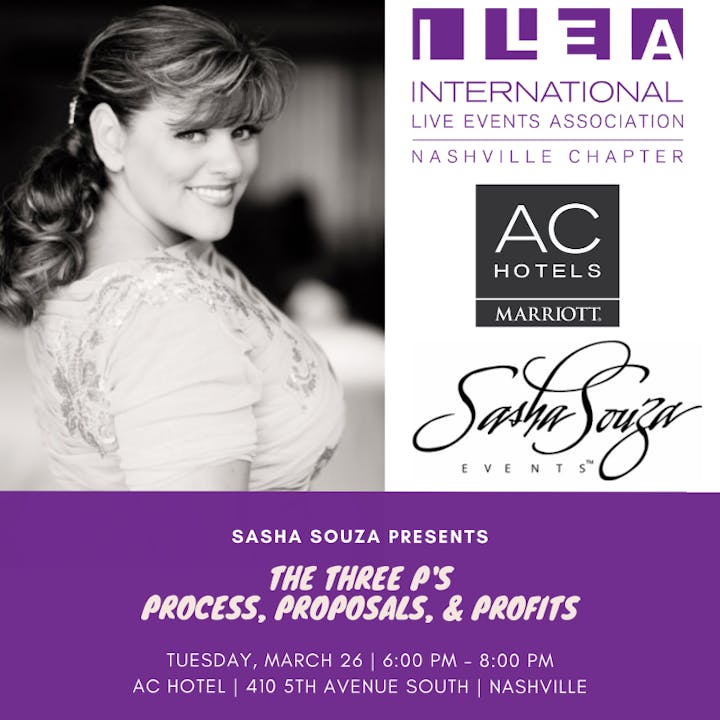 Discounted valet parking available at AC Hotel for $10. Pay lots on side streets also available.
MARCH'S ILEA NASHVILLE MEETING IS BROUGHT TO YOU BY THESE SPONSORS