IL - Chicago | Get Paid While You Build Wealth - Learn How to Create Success in Real Estate | Join Like Minded Entrepreneur

Multiple Dates

Downers Grove, IL
Event Details
                             Get Motivated, Get Educated, and Get Compensated!!         
Wealth Building Events...We would like to invite you to our 2hr real estate investing orientation where you will meet our local real estate investment team and learn more about what we do as real estate investors & business ownership. Think out side the box for that moment and sit back, relax and listen to why our real estate investing business is meant for everyone... You already are an investor whether you like it or not, and you might not realize it yet. You most likely pay for where you live now and you invest in someone's dreams! We all either pay a rent/mortgage or we get paid rent/mortgage.
Would you rather pay someone for where you live, or would you like to get paid?
How would you like to get FREE education, maybe a FREE car every couple years?
How would you like to take control of your own retirement ...
We can show you how SMART investors are doing exactly that. 
At our 2hr real estate investing orientation, we intend to show why that possibility has slipped past the 99% and what we are doing with real estate TODAY! We will
show you a plan that has assisted students, in our community, to a net worth over a million dollars in controlled assets.
show you how you can be involved in the properties that we are involved in.
show you to a working business model that you could have walk down the hall to your home office instead of fighting traffic.
show you the ways to make money, and how to be wealthy with a variety of strategies.
show you how you could be done interviewing for jobs for the rest of your life and comprehensively teach your children how to DO the same!
 

WE ARE LOOKING FOR PEOPLE WHO WANT TO MAKE A DIFFERENCE IN THEIR LIVES....

 Their are two ways you can create wealth with our system....

1. Real Estate Investing

2. Sales and /Marketing

If you enjoy getting out and being around people, attend our wealth building workshops. Our real estate seminars can help you to network. It can help other interested in real estate investing and get started with their home based business. You can do all of your work from home!. 

      NOW IS THE TIME to make YOUR move towards building wealth.

We create successful real estate investors and we have the results to prove that our system works. You must be coachable, willing to work very hard, dedicated, and most importantly passionate about creating long lasting, secure wealth through business ownership and working with our national community of real estate investors. Renatus Community members are dedicated to help reach goals of creating an educated community of like minded Investors nationwide!! 

Register for a real estate seminar and come learn how you can build massive and passive income working with us. We have offices local and we work with our associates making sure they are successful. 

                        CHANGE YOUR FINANCIAL FUTURE, Register Above!

 IMP: To save time and to keep track of who is serious. All our guests must be pre-registered for each meeting. You must confirm your registration by phone or confirmation email. Once you register, you will be notified by receive an email or phone call to confirm your reservation and that you are you. Once confirmed, we will send you an email confirmation with our office address and the location of the orientation. If you need immediate attention, please use the contact link above.

                        CHANGE YOUR FINANCIAL FUTURE, Register Above!

//
Have questions about IL - Chicago | Get Paid While You Build Wealth - Learn How to Create Success in Real Estate | Join Like Minded Entrepreneur?
Contact VisionCenter.acndirect.com
Where


Business Opportunity Orientation
Butterfield Road


Downers Grove

,

IL

60515

Organizer
VisionCenter.acndirect.com
Keep It Simple System works. Vision Center has joined forces with the Will Play For Food foundation with a commitment to fighting childhood hunger. With a goal of completely ending childhood hunger, the foundation provides balanced, healthy nutritious meals to the children who need it the most. 100% of proceeds go to meals, education and meal-related programs. We have approximately 17M childern in United State who do not know where their next meal is going to come from. Vision Center believes it is our responsibility and privilege to help feed children in need. Anyone who becomes a Vision Center customer and pays their bill can help because Will Play For Food Foundation makes a donation every time our customers pay their bills! It is just that simple. Together we can help impact the lives of children right here at home. 
Thursday, January 31, 2013 - 1:50 PM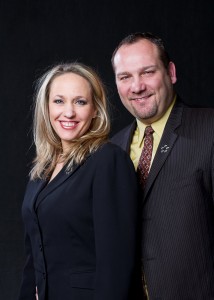 Scott and Nanci Rowe met in New York in 1995 while working for a direct marketing company.  They married in 1998 and because of their positions, performance and time in that company, were tasked with traveling to the Midwest where they grew up, to expand the company's interests.  Scott began opening sales offices and Nanci handled the accounting needs, working from home.  In 2003, Scott was promoted to Vice President of Product Sales and Nanci, managing the finances for eighteen sales offices and attached warehouses totaling Millions in sales, was promoted to to executive administration.  After working with the company for 15 years, the division they were involved with was shut down due to profit margin problems.  This presented both a challenge and an opportunity to explore new avenues of income.
It was in the summer of 2006 that Scott & Nanci met Renatus Founder Bob Snyder and began learning real estate investing.  They used the skills they had learned building marketing teams, leading trainings, and setting up and managing infrastructures, and earned $421,000 from home their first year. As top performers, Bob Snyder began to personally mentor this power couple and with his guidance they became million dollar earners.
As Bob was formulating the plan to create Renatus, he invited the couple to be a part of his Founders Advisory Board due to their contributions to others' success in previous ventures. Scott and Nanci found a perfect fit to apply their 15 years of experience within the Renatus community. In their first 12 months of working with Renatus as Independent Marketing Affiliates, they earned $149,325.03.  In addition to the Affiliate income earned, the Rowes have a growing real estate business today. Their service to the Renatus community has allowed them to change lives from coast to coast. In addition to the income they earn, their reward is the satisfaction they receive helping others achieve financial freedom through Renatus.
Friday, January 11, 2013 - 10:53 AM