Location
Southport Corridor Chicago
3200 - 3900 N. Southport Avenue
Chicago, IL 60657
A free outdoor exhibition walking of Japanese flower arrangement to support Lakeview & Roscoe Village's local restaurants and businesses!
About this event
The Japanese Culture Center, in partnership with the Lakeview Roscoe Village Chamber of Commerce and Japanese Arts Foundation, is hosting an Ikebana Walking Exhibition July 9th and 10th in the Southport Corridor with Ikebana instructors, artists, and students will install flower arrangements from two different schools of Ikebana taught at the center; Ikenobo and Ohara Ryu.  In addition, there will be Ikebana themed, avant-garde Japanese calligraphy and origami flower arrangements on display at some participating locations.  This event is generously sponsored by SSA 27 and Melissa & John Ziberna.
The exhibition features the Japanese art of flower arrangement, or ikebana (ee-keh-bah-nah) in local restaurants and business storefront windows throughout the Southport Corridor allowing safe public access to this beautiful and unique art. Ikebana flower arrangements are meant to be viewed from a single perspective, rather than in the round as often seen in western arrangements. This allows for a perfect experience viewing this art through the window fronts of your favorite local business! The Lakeview neighborhood was historically considered the unofficial Japantown of Chicago. This collaboration seeks to connect our neighborhood's past with the present, while supporting local restaurants and businesses affected by the COVID 19 pandemic.
This event is free of charge and will take place from 12 - 6 PM CDT on Saturday (7/9) and 12 - 4 PM CDT on Sunday (7/10).
We also have a free interactive Haiku booth with Shehan Sensei at our table near J. Crew (3423 N Southport Ave, Chicago, IL 60657).
In addition, Galleria Liqueurs (Southport) will be hosting a few sake tasting both on Saturday and Sunday!
Ikebana - Ikenobo
Ikebana originated with Ikenobo, beginning in Kyoto, Japan. Passed down through generations of the Ikenobo family and from teacher to student, Ikenobo has spread throughout Japan and around the world for over 1,000 years.
The Chicago Chapter was founded over 50 years ago by Senior Professor Ikka Nakashima. She is the second woman ever to receive the highest honor given outside the Imperial family, The Order of the Rising Sun, Gold and Silver Rays. The Emperor of Japan personally presented her with this award in Tokyo for her tireless service in promoting Japanese arts and culture.
The Japanese Culture Center offers virtual and in-person workshops and classes at the introductory and intermediate/advanced levels in the Ikenobo style with Charles Harris Sensei.
Charles Harris Sensei
Professor Charles Harris is the leader of the Chicago Chapter of the Ikenobo Ikebana Society, a role which he assumed at the request of Professor Nakashima in 2010. The Chapter holds regular exhibitions at the Garfield Park Conservatory in Chicago and the Chicago Botanic Garden.  He is passionate about sharing ikebana with those not frequently able to access Japanese cultural arts.  After Professor Nakashima's passing in 2014, her collection of tea and ikebana implements, kimonos, obi and other cultural items were donated to the Japanese Culture Center.  Professor Harris serves as Curator of this extensive collection and is also is a recipient of the Japan America Society of Chicago's Cultural Achievement Award.
Ikebana - Ohara Ryu
The Ohara School of Ikebana was founded by Unshin Ohara when he explored the fields and mountains and tried to develop a style of Ikebana that would express the beauty of natural scenery, while incorporating Western-style flowers, creating the Moribana style. The Japanese Culture Center offers several virtual workshops, classes, and information sessions for those looking to learn about and explore a more modernized style of ikebana.
Yuko Inoue Darcy Sensei
Inoue Sensei came to the Chicagoland area from Japan and has been teaching Ohara Ryu in Chicagoland for over 15 years. She is a member of and certified instructor in the Ohara School of Ikebana, both here in the US and  Japan.  Ms. Inoue is an active lecturer, exhibitor and demonstrator traveling nationally and abroad.  Besides teaching at the Japanese Culture Center, she oversees active study group in Sofia, Bulgaria.  Her principal teachers are the late Hougyoku Hirai, the late Kazuko Ernst, and Houhatsu Takeuchi.  Inoue Sensei was also an Aikido student under late JCC founder, Aikido and Zen Master, Fumio Toyoda.
Shodo
Shodo is the Way of the Brush or Japanese calligraphy.  It is an artistic way of writing the Japanese language using brush (fude) and ink (sumi). This form of writing with a set brush stroke order allows for a creative way to produce works of art.
There are different calligraphy styles: kaisho (correct writing) described as deliberate and clear strokes similar to newspaper print, gyousho (traveling writing) seen as a semi cursive style, and sousho (grass writing) the flowing cursive style.  Often tied with meditation, the mind is cleared to let the letters flow out with little effort. This state of mind is called "mu shin" or "no mind state."
Hekiun Oda Sensei
Oda Sensei created the calligraphy used for the Ikebana Walk logo and is a representative of the prestigious Genshinkai, based in Kobe, Japan, holding the highest level of instructional certification (Shihan).  He also is a recipient of the Japan America Society of Chicago's Cultural Achievement Award and has had a gallery space in the Uniqolo on Michigan Ave.
Mr. Oda was grew up in Kobe City, Japan, and began studying shodo at the age of 5 under the Goun Katsura.   Having relocated to Chicago in 1990, Mr. Oda has demonstrated large brush Shodo and held many exhibitions throughout the Chicagoland area and the US.
His art is a reflection of his heart and he expresses his form through his powerful and bold strokes.  After he moves his brush, there is no going back.
Origami
Ty Yamamoto Sensei
Yamamoto Sensei is a Chicago-based filmmaker, photographer and Japanese language teacher with a passion for origami or the art of folding paper. From childhood, he has loved folding various, intricate paper creations.  Yamamoto Sensei has been teaching virtually at the Japanese Culture Center, since the 2020 and has shared his art with hundreds of students, as well as, various universities and businesses worldwide.
*photo of the arrangement above is copyrighted by Ohara Ryu*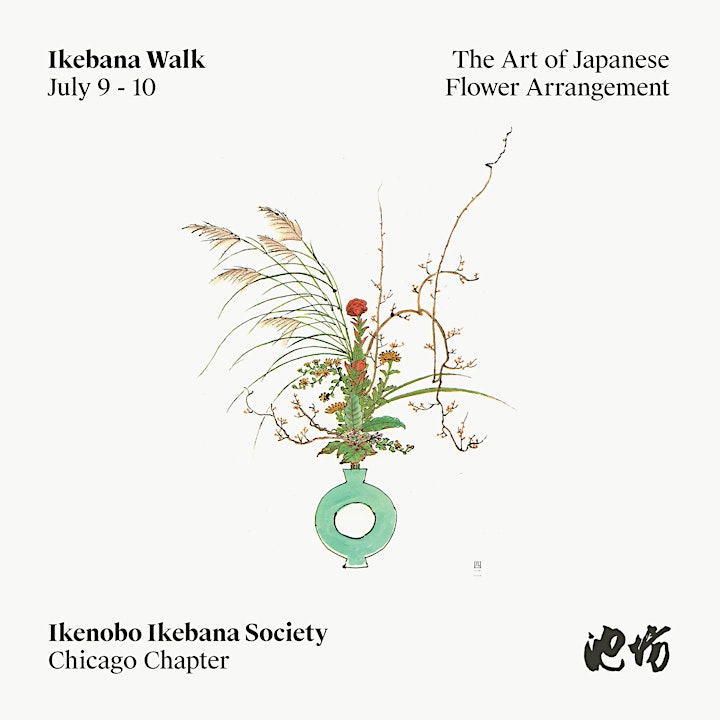 *photo of the arrangement above is copyrighted by the Chicago Chapter of the Ikenobo Society.*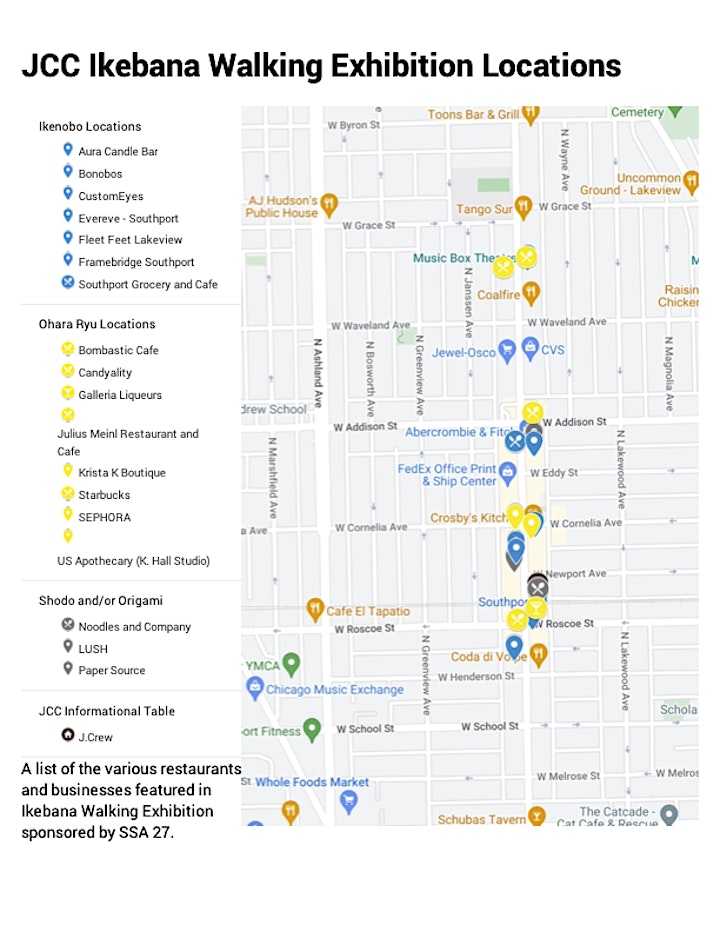 A current list of businesses that are participating, thus far:
Aura Candle Bar - Ikenobo
Bombastic Café - Ohara Ryu
Bonobos - Ikenobo
Candyality - Ohara Ryu
CustomEyes - Ikenobo
Evereve - Ikenobo
Fleet Foot Lakeview - Ikenobo
Framebridge Southport - Ikenobo
Galleria Liqueurs - Ohara Ryu
Julius Meinl - Ohara Ryu
Krista K Boutique - Ohara Ryu
Lush - Origami
Noodles & Company - Origami
Paper Source - Shodo & Origami
Sephora - Ohara Ryu
Southport Grocery and Cafe - Ikenobo
Starbucks - Ohara Ryu
US Apothecary (K. Hall Studio) - Ohara Ryu