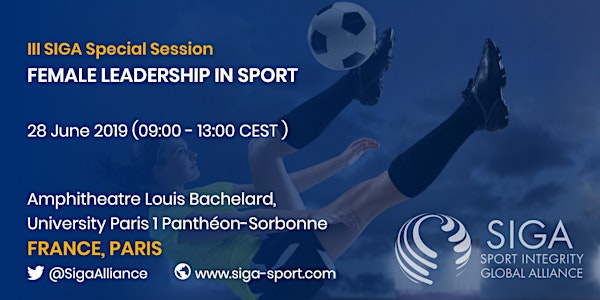 III SIGA Special Session: Female Leadership in Sport, Paris
When and where
Location
Amphitheatre Louis Bachelard, University Paris 1 Panthéon-Sorbonne. Paris France
Description


This Special Session will be hosted by SIGA in partnership with the Sorbonne University to whom we are thankful.
Held in the week of the Quarter-Finals of the Women`s World Cup, this Special Session will address the importance of Female Leadership in Sport, its important role in promoting good governance and, in particular, diversity of thought in a fast, ever-evolving dynamic sector, as well as the challenges facing future female leaders and the best solutions to pierce the gender glass ceiling.
All SIGA Mentors and Mentees from the SIGA Global Female Mentorship Programme for Aspiring Female Leaders in Sport are invited. This is an opportunity to exchange ideas and measure our progress. After all, this issue is not confined to International Women`s Day but should be on the agenda on a permanent basis if we are to instigate meaningful change.
III SIGA SPECIAL SESSION:
FEMALE LEADERSHIP IN SPORT
Amphitheatre Louis Bachelard, University Paris 1, Patheon-Sorbonne
28 June 2019 (09:00 to 13:00)
Agenda
09:00 Welcome Address
Emanuel Macedo de Medeiros
CEO, SIGA
09:10 The SIGA Global Mentorship Programme on Female Leadership in Sport
SIGA General Counsel & Senior Director of Global Partnerships
09:20 Piercing the Gender Glass Ceiling in Sport – Testimonies
Pro boxer, Commonwealth Champion & SIGA Global Female Mentor
Co-founder and first captain of women`s national football team of Palestine & Corporate Communications Manager, FIFA
Director of Marketing & Communications, Qatar Olympic Committee
09:40 Panel 1: Good Governance in Sport: Changing Cultures at the Top
Whether in sports bodies, marketing, broadcasting, sponsorship or in policy, women remain underrepresented in decision-making roles, which has a knock-on effect on how sport is run and governed. This panel will examine have to create more pathways for women in leadership positions to ensure long-lasting systemic change. What is the current reality in sports organisations' governance structures? How can we respond to the challenges to effect change now to secure more diverse and representative leaders at board room level? What role can both men and women play in shaping mentalities to create this cultural shift?
Board Member, AFDP Global / former Vice President, Fan Engagement, Major League Soccer
Global Director of Gender Equality, Athletes for Hope
SIGA General Counsel & Senior Director of Global Partnerships
President, Association of International Football Lawyers/ Member, Women in Sports Law
MA Governance Services Manager, FIFA
10:40 Coffee Break
10:55 Panel 2: Women in Sports Business: Creating Value
As more and more women are present in strategic conversations, does this impact the direction of the sport and / or company? This panel brings together female leaders in the sports industry at both operational and policy level, who will share their experiences of the challenges facing women in business in the sports industry and how they turn adversity into success and create value.
General Manager, International Cricket Council
Director of Vision & Innovation integration, Celebrations & Ceremonies at Paris 2024 / Recipient of the Medal of Sports, awarded by the French Minister for Sports (2016)
Director, Global Sports Policy, SIGA / former Member of European Parliament
Chief Operating Officer, the International Centre for Sport Security / Former Vice President Image and Marketing Communications, IOC
Executive Director, United States President's Council on Sport, Fitness & Nutrition
Dean of fashion institute of Technology, State University of New York
11:45 Panel 3: The Future: Finding Allies
This panel will discuss how to ensure the conversation continues outside of safe spaces. How do we bring more male allies on board? What wider societal shifts need to happen? How do we make the conversation more mainstream and avoid talking to ourselves? What can we, collectively do, within 6 months or 12 months, to promote female athletes as well as female leaders?
Assistant Professor, University of Canberra
Strategic Consultant & Advisor to the President of the Kosovo National Olympic Committee, Senior Elite Trainer & Motivational Speaker, CEO, Genuine Effect Ltd
Floriane Varetta-Lonjaret
Co-founder d'Égal Sport
Director of Brand, Commerce & Communications, International Mixed Martial Arts Federation
1988 US Olympic Swimmer & President of the Minnesota Chapter of the US Olympic & Paralympic Association
Special Advisor, SIGA AMERICA /Former CEO, US Centre for SafeSport / former Executive Director, United States President's Council on Fitness, Sport and Nutrition
12:35 Interactive Session with the Audience
12:50 Conclusions & Game Plan for the Future
Emanuel Macedo de Medeiros
CEO, SIGA
SIGA is the largest independent global coalition in the field of sport integrity, with more than 100 international multi-industry members and supporters. We bring together sport, governments, academia, international organizations, sponsors, business, rights holders, NGOs, and professional services companies, from every region in the world, around a common cause of fostering greater integrity throughout sport.


Share this event on Facebook and Twitter.
We hope you can make it!
Kind Regards,
The SIGA Team