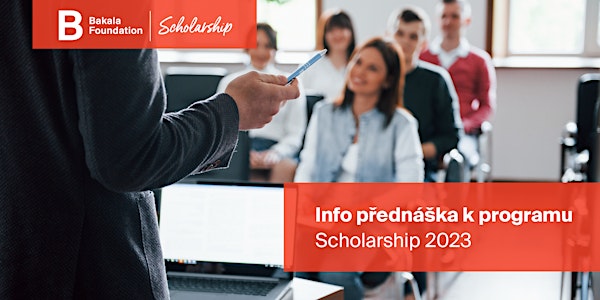 III. Info přednáška k programu Scholarship 2023
Zveme vás na info setkání o stipendijním programu Scholarship, jehož 14.ročník otevřeme v listopadu. Přijďte osobně nebo se připojte online.
When and where
Location
Student Hub Bakala Foundation Tržiště 366/13 118 00 Praha 1 Czechia
About this event
Chcete se dozvědět o podmínkách získání finanční podpory pro studium v zahraničí prostřednictvím stipendia Scholarship? Máte dotazy k online přihlášce a způsobu jejího vyplňování? Chcete vědět víc o přijímacím procesu na zahraniční univerzity? Zajímají Vás počty a profily úspěšných žadatelů z minulých let? Máte jiné otázky?
Pak se zúčastněte naší info přednášky a dozvíte se vše potřebné! Přednáška se bude konat v prostorách našeho Student Hubu, ale je možno se připojit také online prostřednictvím Google Meet.
Jak bude přednáška probíhat?
1) Osobně:
Zaregistrujte se a přijďte do Student Hubu Bakala Foundation (4. patro, Tržiště 13, Praha 1).
2) Online
Pro online připojení je třeba mít Gmail nebo jiný účet na Googlu a tento email použít při registraci.
V den konání zašleme účastníkům zaregistrovaným na online přenos odkaz na videohovor.
Nejpozději do 16:55 se prosím připojte k videohovoru.
Otázky můžete pokládat písemně přes chat.
V případě dotazů se obraťte na Paulínu Horenskou Turisovou na turisova@bakalafoundation.org
Scholarship 2023
Stipendijní program Scholarship je určen talentovaným a cílevědomým studentům z ČR, kteří studují či chtějí studovat ucelený bakalářský nebo magisterský program na předních zahraničních univerzitách. Nadace studentům poskytuje finanční pomoc, poradenství i další podporu.
Přihlášky do 14. ročníku programu Scholarship je možné podávat od 10. listopadu 2022 do 18. ledna 2023.
Další přednášky
V rámci programu Student Hubu připravujeme také další přednášky o studiu v zahraničí. Sledujte náš web, Facebook či Instagram, aby vám další přednášky neunikly!
Akci pořádá nadace Bakala Foundation. Poskytnutím Vaší e-mailové adresy dáváte organizátorovi akce svolení nakládat s poskytnutými daty za účelem občasného zasílání novinek a pozvánek na akce. Tento souhlas můžete kdykoliv odvolat. 
Na této akci budou pořizovány fotografie. Svou účastí potvrzujete, že souhlasíte s fotografováním Vaší osoby a možným použitím fotografií k propagačním účelům nadace Bakala Foundation. Pokud si to nepřejete, prosím informujte nás před začátkem akce.