Description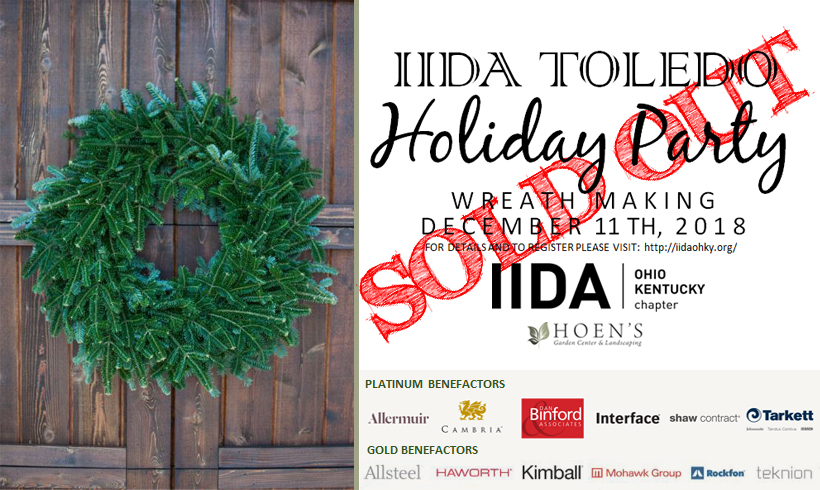 Our Holiday Party is SOLD OUT!!! Thank you to everyone who signed up it is going to be an awesome event! See you in 2019!
Celebrate the Season with IIDA Toledo as we make our own Fraiser Fir wreaths! There will be a demonstration on how to craft your own one of a kind wreath as well as festive items to adorn it such as berries and pinecones. Snacks and refreshments will be available to enjoy as well as gifts and giveaways to win! You will not want to miss out on this fun night!! Registration ends on November 30th with a limit of 35 attendees. So make sure you register early to reserve your spot!
Where: Hoen's Garden Center & Landscaping (1710 Perrysburg Holland Rd, Holland, OH 43528)
When: December 11th 5:30-8pm
In keeping with the spirit of the season we would like to give back to a deserving organization called Good Grief. If you are able, please bring items from their wish list below to donate. You can learn more about the organization at their website: https://goodgriefnwo.org/
Good Grief Wish List:
-
Toys to support creative play (tool kits, games, books, etc.)
-
Paper laminating machine and supplies
-
New and gently used costumes (ages 4 and up)
-
Art Supplies such as markers, crayons, glitter glue,
etc
-
Food Storage Containers such as gallon bags,
sandwhich
bags and containers with lids
-
Sanitizing wipes/paper towels
-
Gift Cards to the following stores


Thank you all for another great year!