IIBA-OC September Dinner Meeting - Elicitation Techniques

Tuesday, September 23, 2014 from 5:30 PM to 8:30 PM (PDT)
Event Details
Elicitation Techniques
Engaging others and creating a collaborative environment
Vicky Schroeder will show you how some fun and easy improv activities can help with the elicitation process and group facilitated situations.  You will learn how to use improv to enhance communication, build rapport, improve reaction time, hone leadership skills, brainstorm, and kick-start creative thinking!  Learn to think on your feet and be ready for anything!  Practicing improv helps people relate better with one another and encourages creative cooperation in a business environment.
The focus will be on activities that enhance creative thinking, brainstorming and elicitation. This event will include very effective activities that will help one "think outside of the box".  The purpose of these activities are as follows: 
Helps with abstract/creative on-the-spot thinking, seeing all sides of a situation, reading between the lines, and finding hidden/non-obvious details. 

Builds teamwork/cooperation, listening skills, creative thinking, and problem solving (how to contribute something relevant to the topic in just one sentence

Promotes teamwork/cooperation, enhances listening skills, gently pulls out details, encourages listening, and builds rapport.
Vicky Schroeder is an entrepreneur. Her specialty is helping small companies with accounting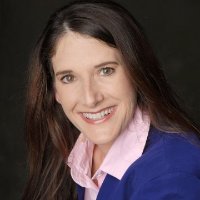 software and office solutions. She received her BA in Business from California State University Fullerton, and studied with the College for Financial Planning. She has been self-employed since 2003. Before then she worked in various positions in accounting, production, purchasing, computer/software setup and management. In a nutshell, she learned all aspects of running a business. Her experience has taught her what makes a company tick, implode or explode.
Though business is the main thrust of her career, Vicky has many creative hobbies. She has studied acting, improv and playwriting throughout her "adulthood". Always looking for a creative solution, Vicky has learned how wrest her artistic leanings into more practical purposes. She credits this to her longtime involvement in Toastmasters International. From this speaking program Vicky has been asked to present improv to several other clubs. It is her hope to teach Corporate America how to use improv to increase their communication skills, efficiency, and functionality.
Fun Fact: Member of Toastmasters 

The IIBA Orange County chapter provides monthly dinner meetings, networking forums, training, job opportunities and connections to other professional organizations in the industry. Dinner meetings occur on the 4th Tuesday of each month (except November and December). Topics generally focus on Business Analyst tools and techniques, as well as, industry trends.
General Agenda:
5:30 – 6:15 Networking/Resume Reviews
6:20 – 6:30 Opportunities and Introductions
6:30 – 7:00 Dinner
7:00 – 8:00 Presentation
8:00 – 8:15 Chapter Business
8:15 – 8:30 Closing Remarks and Rafflel

Find out more about our organization by visiting http://www.iibaoc.org/.

Bookmark this event.
Our IIBA-OC Sponsors:

When & Where

DoubleTree Club
7 Hutton Centre Dr
Santa Ana, CA 92707


Tuesday, September 23, 2014 from 5:30 PM to 8:30 PM (PDT)
Add to my calendar
Organizer
IIBA Orange County Chapter
The Orange County chapter of the IIBA is committed to advancing the profession of Business and Systems Analysis throughout Orange County.  We provide monthly networking meetings, training, job opportunities and connections to other professional organizations in the industry.  We are the "Go To" resource for Business/Systems Analysis in Orange County.  We invite you to come check us out at our monthly meetings.  We meet every fourth Tuesday of each month.  We look forward to meeting you!
IIBA-OC September Dinner Meeting - Elicitation Techniques