IIBA NIGERIA - LAGOS CITY CHAPTER - APRIL 2016 MEETING - Technology and the Role of the 21st Century Business Analyst

Thursday, April 28, 2016 from 6:00 PM to 8:00 PM (WAT)
Event Details
DELIVERING VALUE IN CORPORATE TRANSFORMATION -
Technology and The Role The 21st Century Business Analyst
SPEAKER: BABAFEMI OGUNGBAMILA -
Chief Information Officer, INTERSWITCH LTD.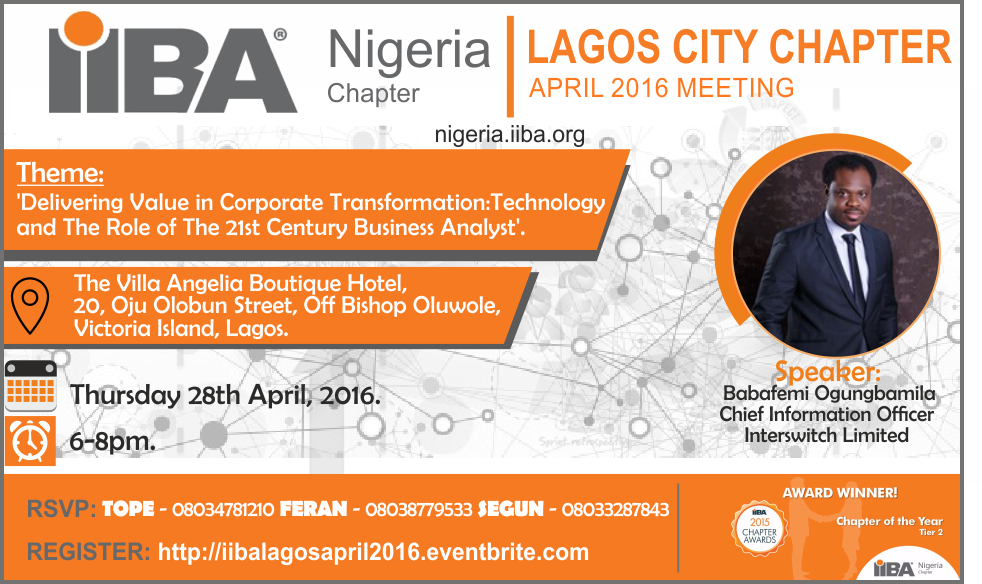 OVERVIEW                      
The 21st century company is a very different company from before. This is a new era and every company in the 21st century would be a technology company. Any company that refuses to make this paradigm shift would find themselves left far behind or simply become irrelevant. To be sure, even those in technology roles in non-technology environs would find themselves out of a job if they fail to assist their companies to navigate today's fast-paced economy and transform them to 'digital' companies. And according to Gartner Research, a survey carried out for the fourth consecutive year shows that Business Intelligence and Analytics remain the No.1 investment priority of more than 2,800 CIOs around the globe.
So, how does a company transform itself into a digital company?
How can the 21st century business analysts assist companies to begin to understand and meet the needs of their customers who are very quickly becoming digital and whose values are rapidly changing with the times? How do companies take advantage of social, mobile, cloud and big data that are creating a nexus of forces set to disrupt our old business models and create new market leaders?

These are exciting times because there exist an abundance of opportunity for those with the right skills ranging from the business analyst, core technology, analytics, business modeling, etc., to assist their companies to create new value to serve the ever changing needs of consumers.
ABOUT THE SPEAKER
Babafemi has over 15 years of technology experience, of which he has spent 10 of those leading technology teams ranging from application development to infrastructure and IT operations. His current passion is to build a best-in-class payments technology infrastructure and deliver payment solutions to serve the African market.
He studied Computer Engineering and has also attended several management programs. He had worked in a global consulting firm and a software development company building banking software for the biggest and most successful financial institutions in the country. He is currently building out the payments and IT infrastructure powering the operations of an Africa-focused integrated electronic payments and digital commerce company.
Babafemi believes technology makes the most impact when it is indistinguishable from our everyday lives. This is what drives his passion to continue to find ways to make payments easier.
PROGRAM OBJECTIVES
Knowledge and experience sharing with respect to the theme.
How the business analyst can take the centre stage in shaping the paradigm shift by helping business to understand the need to deliver value in corporate transformation.

What are the business impact of going "digital" that will inform right investment for success
---
MEETING LOCATION: The Villa Angelia Boutique Hotel
20, Oju Olobun Street,
Off Bishop Oluwole, Victoria Island, Lagos,
---
MEETING AGENDA
6:00 PM - 6:15 PM
OPENING, INFORMAL NETWORKING

6:15 PM - 6:30 PM
  IIBA INTERNATIONAL/CHAPTER NEWS

6:30 PM - 7:30 PM
FEATURE PRESENTATION/ SPEAKER
7:30 - 7:45
Q/A SESSION/ REFRESHMENT

7:45 - 8:00 PM
WRAP-UP
---
****** REGISTER EARLY AS LIMITED SEATS ARE AVAILABLE
---
FOR MORE INFORMATION CALL
TOPE : 08034781210 | FERAN : 08038779533
|SEGUN : 08033287843

When & Where

The Villa Angelia Boutique Hotel
20, Oju Olobun Street,
Off, Bishop Oluwole, Victoria Island,
Lagos, Lagos
Nigeria

Thursday, April 28, 2016 from 6:00 PM to 8:00 PM (WAT)
Add to my calendar
Organizer
The International Institute of Business Analysis (IIBA®) is an independent, non-profit organisation serving a growing number of professional Business Analysts worldwide.  
The IIBA® seeks to promote the profession of Business Analysis, and support the professional Business Analysts that work in the industry. 
 The main activities of the IIBA® are currently :
the development of a globally recognised Body of Knowledge (BABOK®)

the certification of BA training and training providers,

the establishment of an international certification for the professional BA.
Business Analysts who have passed the exam and complied with the workplace experience requirements may call themselves Certified Business Analysis Professionals™. (CBAP®).
The Nigeria Chapter of IIBA  exists within the broader structure and goals of the IIBA®, but focuses more specifically on the needs of the Nigerian community of professional Business Analysts. IIBA Nigeria Chapter is currently active in Lagos, Abuja and hoping to reach out to practicing Business Analysts in Eastern parts of Nigeria (Port Harcourt and environs) very soon.