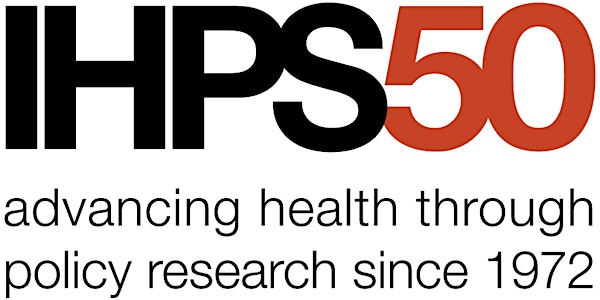 IHPS 50th Anniversary Symposium
Join us for the Philip R. Lee Institute for Health Policy Studies 50th Anniversary Symposium!
When and where
Location
Robertson Auditorium, Rutter Center Mission Bay Conference Center 1675 Owens Street San Francisco, CA 94143-3008
About this event
Lunch will be provided
Agenda:
Opening Remarks: Talmadge King, MD, Dean, UCSF School of Medicine
Video Remarks: Admiral Rachel Levine, MD, Assistant Secretary for Health, US Department of Health and Human Services
"How Government Uses Research to Craft Policy": Panel discussion with state and local government officials discussing the importance of evidence-based research in policy-making for health and healthcare.
Moderator: Peter V. Lee, former CEO Covered California
Panelists:
Alice Hm Chen, CMO, Covered California
Scott Wiener, California State Senator, District 11
Celebration of the Harold S. Luft Mentoring Award Winners:
2020, Mary Whooley, MD
2021, Pamela Ling, MD
2022, Urmimala Sarkar, MD
"Health Journalists and Using Research to Communicate Health Policy": Panel discussion with national and local health journalists discussing the importance of communicating policy-focused research to advance equity in health and health care.
Moderator: David Rousseau (Kaiser Health News publisher)
Ana Ibarra, CalMatters
Dan Diamond, The Washington Post
Joanne Kenan, formerly Politico, currently Johns Hopkins School Public Health Commonwealth Fund Journalist in Residence
Poster Session:  Exploring current work in the IHPS 12 core focus areas below
Access to Care & Insurance
Aging & Long-term Care
Adolescent & Children's Health
Gender & Reproductive Health
Healthcare Value & Economics
Healthcare Workforce & Education
Health Equity
Industry Influences on Health
Informatics & Digital Health
Patient Experience & Quality of Care
Social & Environmental Determinants of Health
Substance Use & Mental Health