About this Event
Message From the HOST
IHOPEE, (International Health Operations Patient Education abd Empowerment ) a 501 (c)(3) organization headquartered in Brandon Florida , opened in 2017. The organization was founded by Rose okwany Oginga to promote literacy and healthcare awareness to the underserved communities locally and internationally .
The beacon of HOPE . EQUIP ,EMPOWER ,ENGAGE ,MENTOR !!
IHOPEE does medical mission yearly and mentoring, coaching and reading sessions in rural schools , it encourages youth to be the ambassador and future leaders.
IHOPEE is focusing on maternal child health care awareness and microfinance investment opportunity encourages give me a rod I will fish motto as an independent force of empowerment.
We offer training skills and support from Egerton university Agriculture Dept to Women who have self help groups , Academic Excellence we have formed an alliance with http://GCU.edu/ihopee with GCU.
IHOPEE offer domestic violence awareness and with hope of safe haven centers , changing lifestyle opportunities and sustainability skills and training of high school and college through scholarships funds to underprivileged brilliant students You and me can make this happen let's do this together .
Buildings Partnerships Together .
Our Theme is SAFARI - Journey to success through IHOPEE 
 
Date : 10/19/19
Time: 5pm-10 pm

Dr Bryan Thatcher - Mission advocate main speaker 
 

Speaker -Youth and Women Empowerment
You are all invited to join hands and support IHOPEE at the Gala! Vendors $100-$500, $1000
Theme SAFARI - A journey to success
Contacts Cash app : Rose Oginga 8135973223 Jacque Miano +1 (989) 332-1371 Christine Ans. (813) 368-2699 Maureen Ndegwa- (214) 713-0551 Roseline Okendo.+1 (630) 891-1236 Veronica Oguna-+1 (619) 781-2239 Dr. pauline Kibisu-+1 (512) 507-8075 www.ihopee.org
FUNRAISING you will never forget!!!
Join us for Our 1st Annual Charity Gala!
The 1st Annual IHOPEE Charity Gala will be an evening to celebrate "IHOPEE International Health Operations Education &Empowerment -our Theme -Safari -( Swahili word for journey -Our IHOPEE journey to success we can support Youth and women via Healthcare abd Edication Awareness-Prevention is better than cute through missions . The night will start off with a glamourous cocktail hour accompanied by live singing, followed by red carpet photo sessions, auction item presentation, and later reception and dance!
All the proceeds will help us to provide education scholarships financial assistance, Maternal child healthcare mental health &Domestics violence awareness services for families affected Mentoring services for youth leadership development.
Sponsor Our Event
Contact us if interested in sponsoring our event
Tel: ((813) 368-2699)
Email: info@ihopee.org
Whatsapp: 8135973223
Program Book Advertising
Pricing:
$ 200 -Full-page ad (8"x5")
$150 Half-page ad (4"x5") /
$100 Quarter-page ad (4"x2.5")
$50Eighth-page ad (2"x2.5")
/$20Shoutouts!!! (60-80 characters)Program book is 5.5" (width) x 8.5" (height) in size and all ads are printed in black and white.
**Provide a high resolution eps/vector or PNG electronic file advertisement for ad book
SPONSORS LEVELS
LION(SIMBA) $500- Front half and Middle page advertisement logo on our pages
ELEPHANT (TEMBO)-$1000 Full page advertisement Back and Front page logo on Our pages and website
GIRAFFE-(TWIGA) -$300 logo on our pages
LEOPARD-(CHUI) - $250 logo on our pages
CHEATER. -(DUMA) -Table of 10 - $600 shout out !!!
Couple -$80
***Checks payable to IHOPEE inc -due to printing deadlines, electronic files and payments are needed by September 25,2019.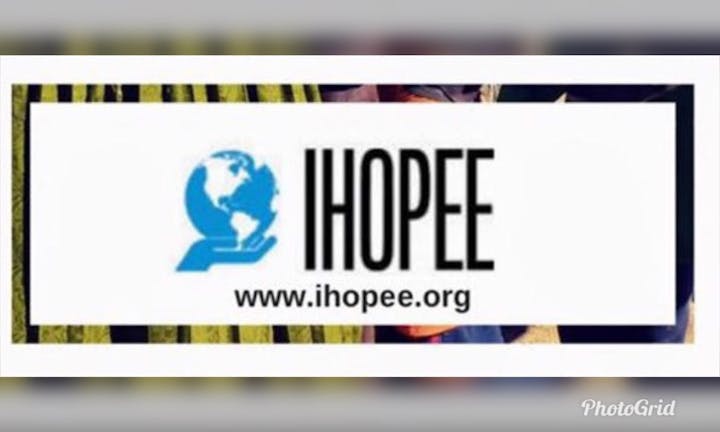 IHOPEE.ORG is an NGO that operates a medical mission with the aim of improving Maternal Child Health MCH in Kenya besides mentoring youth to be the leaders and ambassadors.
The organization (IHOPEE) organizes and sends a mission team to Kenya each year where they create more health and educational awareness , Create safe haven for Domestic violence and sustainability,to help in driving projects running within the communities.
Additionally, IHOPEE offers scholarships at different levels of study, national and international volunteer programs that nurture ambassadors in their areas of expertise.
Mission
To provide a positive impact by organizing community outreach resources and supporting programs that help educate, inspire and empower members of our community .
Vision
To empower Youth and Women in health education and development issues especially improving maternal/ child health in Kenya.
Values
We strive to provide an impact that serve beyond through Charity, Compassion and Community and promote sanity .
Quote
"We are the Salt of the world, and have potential to make a positive impact in our communities."
Projects
1: Equip a library / Education scholarships
2: Medical mission (health awareness)- focus maternal child health , cardiac Diabetes ,stroke )
3: Youth mentoring services -
4: Domestic violence awareness workshops .
Achievements 2014-2018
-Books drive - 10000 kids (14 rural schools )
-Uniform for students-3000 atudents
-Widows micro-finance - 50 women
-Mentor-ship in progress
-2500 Patients impacted in 2018
-1000 workshop on healthcare prevention 2019
✔️USA in Florida ...refugees health and hygiene .
- Interpretation - Swahili/English