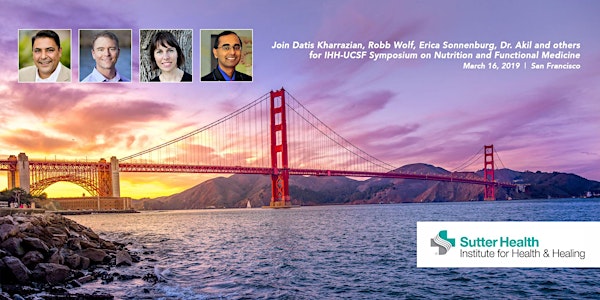 IHH-UCSF Symposium on Nutrition and Functional Medicine
When and where
Location
UCSF Mission Bay Conference Center 1675 Owens St San Francisco, CA 94158
Description
Join us for an inspiring and informative day with global leaders in functional medicine and nutrition! You will hear cutting-edge evidence-based talks from top experts in our 20th annual conference.
World-renowned author Dr. Datis Kharrazian will present groundbreaking research on how previously unsuspected food and environmental triggers can affect autoimmune disease and brain health – plus dietary and detox strategies to address this.
Stanford researcher Erica Sonnenburg, who runs the top microbiome lab in the country, will present her latest insights on how to recover an ancestral microbiome based on studies in Nepal and Tanzania. She will discuss new research on how the microbiome is affected by low-carb versus low-fat diets, and discuss new dietary strategies to optimize the gut microbiome.
NYT best-selling author Robb Wolf will present an eye-opening analysis on recent controversies in nutrition research about the harms of coconut oil, whether a low-carb diet shortens life span, and other topics.
Learn about the gut-heart connection and "leaky heart syndrome", as well as holistic strategies for brain health including the Bredesen protocol for Alzheimer's disease, a functional medicine approach to female hormones, and other tips for overall wellbeing.
We will have a delicious Paleo lunch catered by an award-winning group (details below).
Speakers:
Datis Kharrazian, Harvard Medical School researcher, internationally recognized speaker, and New York Times best-selling author
Erica Sonnenburg, PhD, Senior Research Scientist at Stanford University, and co-author of The Good Gut
Robb Wolf, research biochemist and New York Times best-selling author of Wired to Eat
Akil Palanisamy, MD, Harvard-trained integrative medicine physician with expertise in functional medicine and Ayurveda, and author of The Paleovedic Diet
Gina Serraiocco, MD, fellowship-trained integrative and functional medicine practitioner, Bredesen Protocol certified, and Palo Alto Medical Foundation primary care physician
Jennifer Griffin, MD, board certified family and integrative medicine physician with expertise in salivary hormone testing, bio-identical hormone treatment, and nutrition
Conference Program
7:15 AM to 8:45 AM – Registration
8:45 AM to 9:45 AM –
Robb Wolf, If a low-carb diet won't kill you, coconut oil surely will...
9:45 AM to 10:15 AM –
Akil Palanisamy, An Integrative Approach to Heart Disease
10:15 AM to 11:45 AM –
Erica Sonnenburg, The Ancestral Microbiome: How Wisdom from our Past can help us Optimize Gut Bacteria to improve every aspect of health
11:45 AM to 1:00 PM – BREAK for Lunch
1:00 PM to 1:45 PM –
Gina Serraiocco, Harnessing Functional Medicine Strategies to Prevent and Reverse Dementia, an evidence-based approach

1:45 PM to 3:15 PM –
Datis Kharrazian, Food and Environmental Cross-Reactivity and Neurological Diseases: How antibody cross-reactivity to novel foods and environmental toxin triggers can affect brain function, and dietary/detox strategies to prevent this
3:15 PM to 4:00 PM –
Jennifer Griffin, Optimizing Female Hormones : A Functional Medicine Approach with Case Studies
4:00 PM to 4:15 PM – Conclusion

The event is organized by the Sutter Institute for Health and Healing, the oldest center for integrative medicine in the US, and the Integrative Medicine Network at UCSF. We are grateful to our sponsors, the Roberta E. Neustadter Mini Medical School, and Apex Energetics (www.apexenergetics.com).
FAQs
Who should attend?
The Symposium is open to all people interested in nutrition and functional medicine, especially health professionals and wellness practitioners from all disciplines and modalities. Laypeople who are curious about the science behind these topics are most definitely welcome.
Will the speakers be live or appearing via video stream?
All speakers listed above will be appearing live at the event in San Francisco. The event will most likely be live streamed too.
What are the details of the live stream?
The event will likely be streamed on Facebook at https://www.facebook.com/instituteforhealthandhealing – it will be available for viewing via replay after the event on the same page. There is no cost to view the live stream. Viewers can tweet their questions during the event @doctorakil
Where do I enter my coupon/discount code to register?
Click on "Tickets". The top of the next screen will feature a link which says "Enter Promotional Code". Click on that link and enter the code there.
I registered but forgot to enter my coupon/discount code. Can you adjust my fees?
Unfortunately we are not able to modify registrations once they are completed. To find out where to enter your coupon code, please see the previous question.
I am a student at another school. Can I get the UCSF student rate?
No, only UCSF students are allowed to register using the UCSF student rate and must bring their UCSF student ID to the event. However, students at other schools can purchase the "Other Students" discounted ticket.
What is the ticket policy?
Registration is nonrefundable and not transferable for all tickets. No exceptions.
Can I get CME/CEU/UCSF credit?
UCSF students in past years could have gotten credit for the event as an elective, but we are not able to offer UCSF students elective credit this year due to changes in UCSF policies. Unfortunately, we are not set up to offer CME, CEU or other continuing education credits for any type of practitioners.
What is the conference program?
The conference program is posted above.
What time does the conference start?
The conference will start promptly at 9:00 AM. Because the event will be live streamed, please plan to be in your seats by 8:45 AM so that we can begin on time.
Do you need volunteers or is it possible to work during the conference for a reduced rate?
We do not need volunteers and it is not possible to work in exchange for attending the event. Unfortunately, due to conference expenses we cannot offer a reduced rate.
Will breakfast be served?
No, but we will be providing coffee, decaf coffee, and hot tea.
What is the lunch menu?
We will be serving a delicious Paleo lunch catered by an award-winning group. It will be grain-free, gluten-free, dairy-free, legume-free and soy-free. The menu is as follows:
Kale, Cayenne Candied Bacon and Roasted Beet Salad
Curried Ground Chicken and Root Vegetables over Riced Cauliflower
Spaghetti Squash with Meatballs (pork, beef) and Tomato Sauce
Roasted Acorn Squash Topped with Cashew Cheese and Pomegranate Rosemary Roasted Apple
Sweet Potato Coconut Braised Plantains and Yams
Can I bring my own food/drink?
Yes, you can bring your own food and drink if you would like. Also, food and drink is allowed inside the auditorium without any restrictions.
What are my transport/parking options getting to the event?
We suggest parking in one of the UCSF garages or taking public transportation. Parking is not validated or reimbursed at the event. There are multiple parking garages at UCSF Mission Bay, one right next to the Conference Center with the entrance on Owens Street (this may get filled up) and another garage with an entrance on Third Street (this will likely be less full). More information about parking can be found here: http://campuslifeservices.ucsf.edu/transportation/services/parking/public_parking
Do I have to bring my printed ticket to the event?
There is no printed ticket. Online registration is sufficient.