San Antonio's 1st Health and Wellness Expo For 3rd - 8th Grade Girls and Their Families!
About this event
POSTPONED Due to COVID-19 Social Distancing Mandates. New Date TBA
Come join us for the iGrow Girl 2020 Expo!
Featured Panelists:
Grizelda M. Anguiano, MD, PLAY Awareness and Mind Works
Kristen McKenney Baggett, Executive Director, Yoga Day
Shannon A. Garcia, MDS, RD, LD, KISS In The Kitchen
Ann-Louise T. Lockhart, PsyD, ABPP, A New Day Psychology
Sheena Solitaire, Director of Gallery Programs, The DoSeum
Michelle Storandt, MD, Acorn Pediatrics of San Antonio
Performances by:
San Antonio Ballet School
Who: 
iGrow Girl is here to encourage girls to learn who they are and be fearless in being the best authentic versions of themselves.
What:  
So, here's the thing. Self-discovery is wonderful--no doubt! But when a girl learns to practice self-care while being true to the amazing unique person she is, then she will be super-powered and unstoppable! That's why we've made this year's expo theme… (drumroll, please): "But First... Self-Care Inside and Out."
Here's what that looks like:   
Exhibitors and speakers who offer mental/emotional and physical health and wellness services and resources for girls and their families. Giveaways, prizes, live performances by local girl troupes, and more.
Food available for purchase--add on when you purchase your ticket online OR bring your own lunch.
We're planning two major content components: 
Exhibitors in the areas of sports, fitness, nutrition, healthy habits and lifestyle, stress relief, mindfulness, creativity, healthy relationships, and healthy online habits.
Open Space sessions that consist of informal panel discussions in an open setting. The sessions will be enlightening, but also short, sweet and interactive to keep the tweens moving. Open space sessions give presenters a chance to engage with girls and their families.
All are welcome. We expect families from surrounding neighborhoods and throughout San Antonio. The focus is on tween girls, and there will be something special for every girl and the people who love them! 
When:
This will be a one day event--New Date TBA. Doors open at 9:00 am and close at 3:00 pm. Fun interactive learning activities scheduled from 10:00 am to 2:00 pm. There will be lots of time to visit the exhibitors, be entertained, have lunch, and meet new friends!
Where:
The Campus of the San Antonio Jewish Community - 12500 NW Military Hwy, San Antonio, TX 78231 The campus is a family-friendly and all-inclusive community center--home to a wide array of year-round services and activities for all ages, including sports, fitness, educational, arts, camps and senior programming. ​
How:
This is where you come in! Buy tickets for you and your girl--and the whole family! Spread the word and share on social media. Tickets are $10 per person. Children 5 yrs and under are free.
Why:
Why wouldn't we celebrate girls' self-discovery and self-care this day or every day for that matter? There's never been a better time for an event like this! Bring your tween girl and your family and and learn how to get and keep your girl on the life-long path to self discovery, self-care, health and wellness... inside and out!
​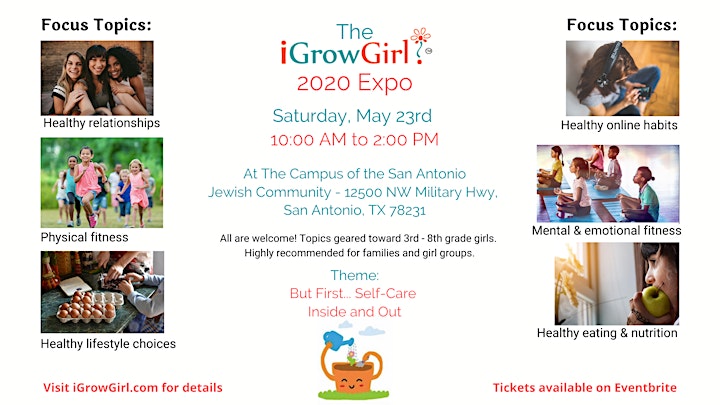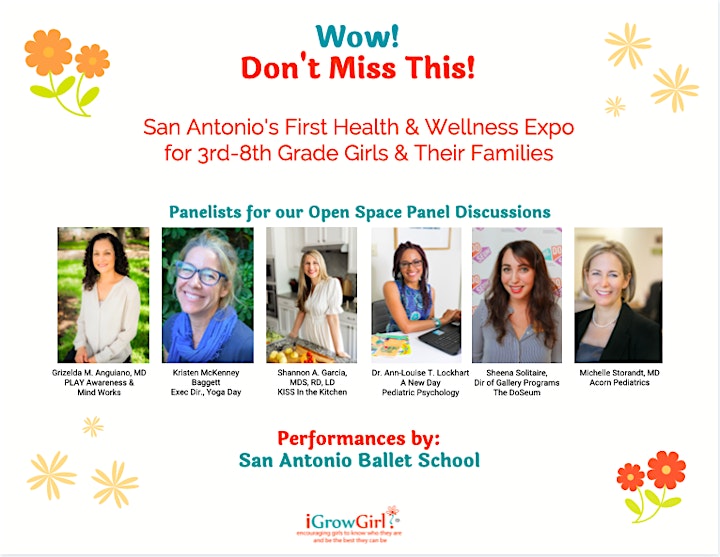 This event will NOT take place on May 23, 2020. It has been postponed due to COVID-19 social distancing mandates. New Date TBA
Organizer of iGrow Girl 2020 Expo (Fun Event For 3rd-8th Grade Girls + Their Families)
About iGrow Girl
iGrow Girl is a social enterprise company with a mission to empower girls. We encourage tween girls to discover who they are and be the best they can be by empowering them and their families with the tools to practice self-care, health and wellness inside and out (physical, relational, emotional and mental). 
Our girl-centered workbook, workshops, events and programs encompass the three Fs: We are fresh, fun and physical. OK, so physical doesn't begin with an f, but go with us on this one!
In all that we do, iGrow Girl brings fresh ideas. We teach practical tools and share valuable resources that girls and their families can embrace or personalize to make their own. 
We always include elements of fun because having fun is important to emotional, mental and relational health. In addition to bringing girls joy, it broadens our community because, let's face it, who doesn't like to have fun?
The physical component is getting together face-to-face (not online) and creating a community of like-minded girls and women advocates. 
Being a part of a supportive community that helps girls to stay on a life-long path of health and wellness inside and out; growing, sharing and learning meaningful truths and practices--and having fun while doing it-- is what drives us.