Actions and Detail Panel
Igor's Negotiation Boot Camp 101
Fri, February 17, 2017, 1:00 PM – 5:00 PM EST
Description
Successful Negotiators Club invites you to take part in a half-day Igor's Negotiation Boot Camp 101.
Do you have to re-negotiate your salary? Receive more for your work? Take on bigger clients? The best way to get a better deal is to practice deal making!
Unlike traditional negotiation workshops, this boot camp is a 100% practical and personalized training meant to make you a more successful negotiator.
You don't need to have a lot experience to get involved. The stress factor is going to be mitigated by the presence of negotiation experts who are going to assist you and your teammate with your preparation for each round.
Event Format
The format of the event is going to include brief instructions, 3 competitive negotiation rounds, and a final round among the teams that show the best results in the previous rounds. All participants will be put into teams of 2 people. Negotiation rounds are going to take place between teams.

Each round starts with a 15-minute preparation by the teams. Each team gets some general information and a bit of confidential information. The goal of the preparation time is to develop a sound negotiation strategy for the negotiation round. It might be possible to ask for help from professional negotiators during this time.

The round itself is going to take another 15 minutes.
At the end of each round, the judge will decide, which side negotiated more effectively. 360-degree feedback is also going to be provided. The judge will comment on the specifics of your performance. Moreover, your counterparts will share their strategy and explain the strong and weak points they observed in your and your team's position. This way you will be able to identify your strengths and weaknesses as a negotiator.

Negotiation Cases
Negotiation cases are taken from different spheres: personal, manager-employee and between two businesses. Most cases are structured in such a way that there is always a way to create value for both sides. All cases are based on real life experiences and have a number of useful insights applicable to other situations.

Experts & Judges
The professional team of experts of the Successful Negotiation Club, as well as a few guest experts, will ensure that you will receive high-quality customized feedback as well as help with preparation.

Brian Formato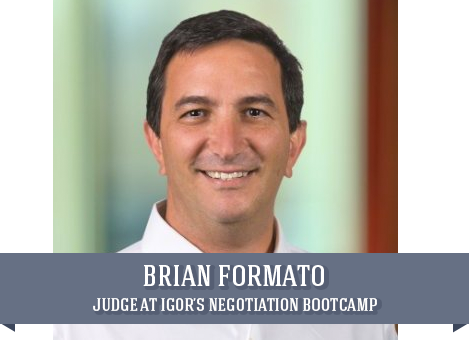 Brian Formato is the Founder and Principal at Groove Management. In 2016 he started LeaderSurf, a unique leadership development program that merges learning to surf with becoming a better leader.
Brian is a seasoned organizational development, communications and digital marketing leader with 20+ years of corporate experience. He is an accomplished speaker, writer and executive coach who has had a positive impact on individuals and organizations around the globe.
Albert Banks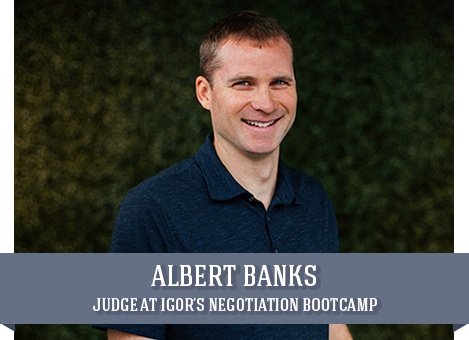 Growing up as the son of a Naval Engineer, Albert relocated across oceans and state lines and found friends at every stop. Today, he is the CEO and Co-Founder of Myjive (myjive.com), where he oversees operations and finances to support continued growth of their digital service-based businesses. Myjive businesses include: South (thesouthagency.com), a digital marketing and social media agency and Untold (untold-digital.com), a design-driven technology and production partner. His success has led to award-winning solutions for Regal Boats, NAPA Filters, Pelton & Crane, Trinity Partners and Volvo Trucks North America.
LeeAnn Shattuck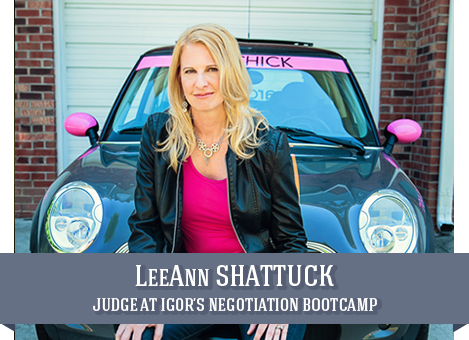 LeeAnn Shattuck is the owner of TheCarChick.Com, a unique car buying service that helps women get a great deal on a new or used car without the hassle and frustrations that come with traditional car shopping.
She is also an automotive expert, entrepreneur, speaker, author, radio and television host, and race car driver. More about LeeAnn can be found on her website Who is the Car Chick.
Scott Patterson
Scott has successfully bought and sold well over 100 houses. He is also a former President of Metrolina Real Estate Investment Association. He runs an educational Real Estate Investment Unfiltered MeetUp Group (not your grandma's real estate meeting).
Skills in focus
Effective preparation;

Working in a team (you can bring your own teammate!)

Claiming and creating value in negotiation.
The workshop is going to include coffee and light snacks. Register early as the number of participants is limited.