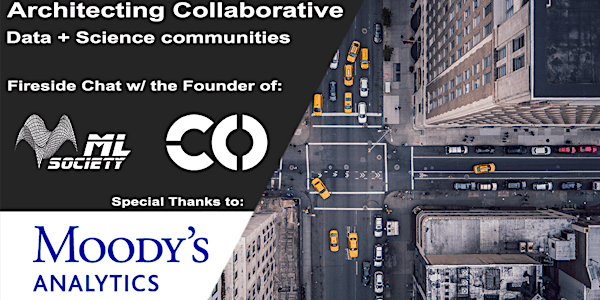 Igniting the Computational Renaissance: Machine Learning Society - New York
Event Information
Location
Moody's Analytics - 7 World Trade Center
250 Greenwich St
New York, New York 10006
Description
Hello friends! I am coming to the East Coast (New York and Boston) for a few weeks and would be honored to have you join me for an evening of conversation, sharing, and a collective gaze into the future. The Machine Learning Society is hosting a fireside chat with New York's top community leaders in ABC ( Artificial Intelligence, Biotech and Cryptocurrency)
Topics:
Structuring high-performance technical teams.
Self-evaluation and developing new skills in Data+Science.
Community resources: Free Lectures, Jobs, Projects, Initiatives.
Event Announcements: A big Hackathon is coming!
Panel:
Tristen Tyler Blake
Founder | Community Architect at The Machine Learning Society
Founder | Information Trafficker at "CO" a Science & Tech Social Network

Brian Rogers
VP of Product | Augmate, an IoT blockchain company.
Co-Founder and Chairman of the Columbia Blockchain Alliance.
CEO & Founder of Modgital, Inc.
Charlie Oliver
CEO & Founder at TECH 2025
CEO & Founder at Served Fresh Media LLC
Sponsors:
Please thank Moody's Analytics for hosting us in their beautiful venue and providing food, drinks for our guests. You must bring a photo ID to enter through security. The event will be on the 19th floor. Don't forget to bring a resume: Moody's Analytics is hiring!
Host:
The Machine Learning Society strives to facilitate high-quality relationships between innovators. We are developing a global network that promotes scientific discovery and the transaction of powerful new ideas. We invite everyone with a vision for a better future to exercise their passion and creativity on solving the world's most challenging problems. Visit www.mlsociety.com and join our mission to improve the human condition with Science, Technology and Culture.
Partners & Supporters:
NYAI - A community of researchers, developers, educators, data scientists, investors, and general enthusiasts, gathering to network, learn, and discuss emerging trends in AI. We host monthly Speaker Series featuring thought leaders presenting technical deep dives covering specific topics on AI and machine learning.
Brooklyn Futurist Meetup - We discuss what the world might look like in ten years or more. Speakers explore trends with transformative potential... or ones that are just fascinating.
Date and time
Location
Moody's Analytics - 7 World Trade Center
250 Greenwich St
New York, New York 10006