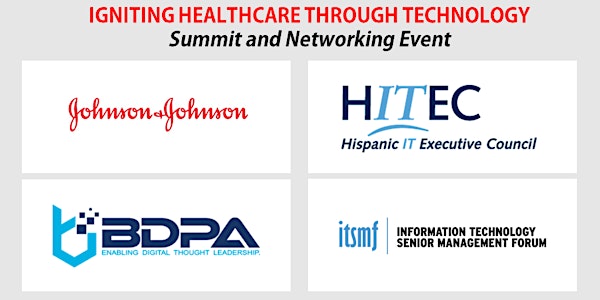 Igniting Healthcare through Technology
Date and time
Tuesday, October 17, 2017 · 5 - 8pm EDT
Location
J&J World Headquarters 1 Johnson And Johnson Plaza New Brunswick, NJ 08901
Description
Summit and Networking Event
Johnson & Johnson Information Technology leaders Larry Jones, VP and CEO Medical Devices, and Guillermo Ardon, VP and Chief Applications Officer invites you to attend the Igniting Healthcare through Technology Summit and Reception on Tuesday, October 17, 2017, at the Johnson & Johnson Corporate cafeteria in New Brunswick, NJ.
The line-up of Johnson & Johnson special guests includes Office of Diversity & Inclusion, Elvie Gee, whose talk will include the importance of Employee Resource Groups. Mike Reilly, Vice President of Application Services, will host a discussion on J&J Healthcare Technology products.
We are excited to announce, Christina "CK" Kerley, a globally known, speaker, futurist, and strategist, will deliver the keynote presentation focused on Igniting Healthcare's New Frontier. Attendees will gain powerful insight on the convergence of technologies, discoveries, devices, and data that are accelerating the pace of innovation.
You'll also hear from strategic partners (HITEC, BDPA, and ITSMF), who are committed to diversity and inclusion and to working with Johnson & Johnson IT to help strengthen our talent pool and generate alternative avenues for professional development.
In addition to this powerful group of speakers and presenters, the summit includes an exhibit by Johnson & Johnson IT colleagues on Healthcare Technologies as well as informational booths around our ERG's, our Credo in action, and job opportunities within IT.
Registration closes Monday, October 9, 2017.
We hope you'll join us.
Sincerely,
Larry Jones, Guillermo Ardon