Location
1871
222 W. Merchandise Mart Plaza
12th Floor
Chicago, IL 60654
Description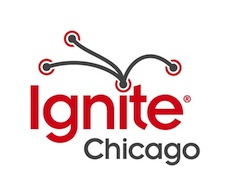 5 minutes. 20 slides. What would you say?

IgniteChicago is a high-energy evening of five minute presentations by people who
have an idea - and the guts - to get onstage and share it with all of us.
Each presentation is composed of 20 slides that automatically advance every 15
seconds. Presentations can range from how to build a resume to a history of the
Samurai sword to a manifesto on boxes.
Get a taste for the excitement in this video.
WHEN: Tuesday, February 5 @ 7PM
WHERE: 1871 Chicago's co-working center for digital startups
Follow us on Twitter & Facebook
Tickets are $12 at the door.