Event Information
Refund Policy
Contact the organizer to request a refund.
Eventbrite's fee is nonrefundable.
Turn up the fire of creativity and excitement. Gain in self-confidence, strengthen your creative muscles and get your body moving.
About this Event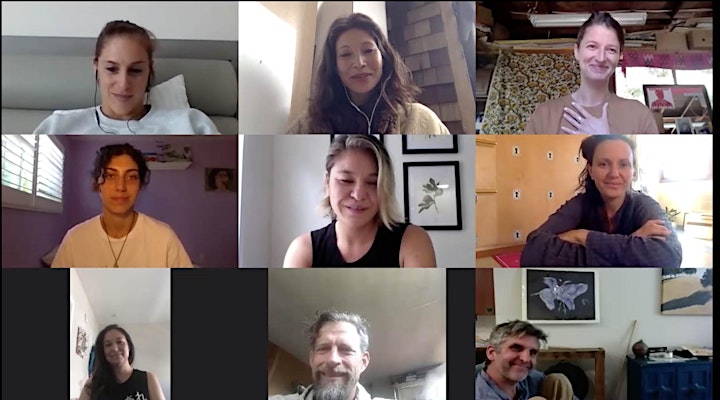 In IGNITE THE SPIRIT OF PLAY experiential class you will:
• Access your body's wisdom.
• Notice habitual identity patterns.
• Give voice to your excitement & Embody your creative playful self
• Create a doable action step to add more FUN in your life.
• Be supported and meet other artists and/or aspiring creatives.
We will draw, dance, write, share and improvise with specific keys and activities to inspire you and get you exploring. This is a judgment and pressure free zone!
You will also receive 2 Bonus gifts after the class.
• 10 simple ways to add more play to your life.
And
• How to add more spaciousness and time to your day.
If you cannot make the live class. Purchase your ticket and email me for the replay carlyko@gmail.com
"I walked out feeling more connected with myself and others. I felt heard and seen both by others and by myself, and learned what this would look like in daily life." Nicole Bhabout
"I 𝑑𝑖𝑠𝑐𝑜𝑣𝑒𝑟𝑒𝑑 𝑡ℎ𝑒 𝑎𝑟𝑡 𝑜𝑓 𝑐𝑜𝑚𝑚𝑢𝑛𝑖𝑐𝑎𝑡𝑖𝑛𝑔 𝑖𝑛 𝑝𝑒𝑎𝑐𝑒, 𝑡ℎ𝑒 𝑗𝑜𝑦 𝑜𝑓 𝑒𝑥𝑝𝑟𝑒𝑠𝑠𝑖𝑜𝑛 𝑤𝑖𝑡ℎ𝑜𝑢𝑡 𝑗𝑢𝑑𝑔𝑚𝑒𝑛𝑡, 𝑡ℎ𝑒 𝑛𝑒𝑐𝑒𝑠𝑠𝑖𝑡𝑦 𝑜𝑓 𝑓𝑎𝑐𝑖𝑛𝑔 𝑚𝑦 𝑓𝑒𝑎𝑟𝑠 𝑠𝑜 𝑡ℎ𝑎𝑡 𝐼 𝑚𝑎𝑦 𝑟𝑒𝑙𝑒𝑎𝑠𝑒 𝑡ℎ𝑒𝑚" Emma Estrada
ABOUT CARLY KO
Carly Ko supports seekers, artists and aspiring creatives to embrace their uniqueness, align with their passion and joy, and reach higher states of creative flow in every area of their lives.
Carly has produced over 40 workshops that supported people in connecting to their bodies and listening to their divine wisdom and creative flow. She has entertained and brought laughter and smiles to over 100,000 people worldwide in her comic theatrical performances. She has contributed to multiple life breakthroughs through channeling intuitive guidance and somatic coaching.
Carly grew up in an abusive household which led to chronic self-doubt and shyness. From age 16, she dared to step into her fears and break out of the inner cage, she travelled the world, performed, modeled, and learned multiple body based and spiritual practices. What helped her expand was leading with her soul's inner guidance and holding onto her joy as her North Star.
Carly knows the pain of what it felt like to be under living, under earning, and under being. She passionately supports her clients to fully expand, align and embrace their authentic selves by leading with their joy and stepping into a creative flow in their work, relationships and life.
Carly is also a proud mother, massage therapist, incessant traveler and loves being quirky, playing and having adventures.
Q&A
What if I don't know how to dance, write, draw, etc...?
There is no level of experience needed, you will be exploring your own stories through the expressive arts, meaning you draw, dance, write, improv, etc. based on whoever you are now. There are no right or wrongs or comparisons. I do suggest being open for exploring and perhaps exploring modes of expression that are unfamiliar to you, hence the fun ;-)
What material do I need?
• A good zoom connection, a space to be able to dance and be able to lay on the floor. Make sure you can move your computer so that you can be seen standing or laying down.
• Drawing material. Paper size A3 or A2, or 4 papers of A4 paper taped together. One set of: In order of preference oil pastels, dry pastels, colored drawing pencils, crayons, or any other easy to use colorful art medium.
• Pen and paper or journal.
• An element of a costume or full costume or a clothing item or accessory that feels like a playful dress up item. (bring it or wear it)
Remember, you don't have to be an artist to still connect with the artist within.
You don't have to be a child to laugh yourself silly and play ferociously.
Let's make 2021 fun, creative and be the authors of the lives we want to live, starting NOW.
Have questions? Email them to carlyko@gmail.com
Date and Time
Location
Refund Policy
Contact the organizer to request a refund.
Eventbrite's fee is nonrefundable.