IGNITE YOUR RADIANCE Event

Thursday, February 20, 2014 from 6:30 PM to 9:15 PM (PST)
Event Details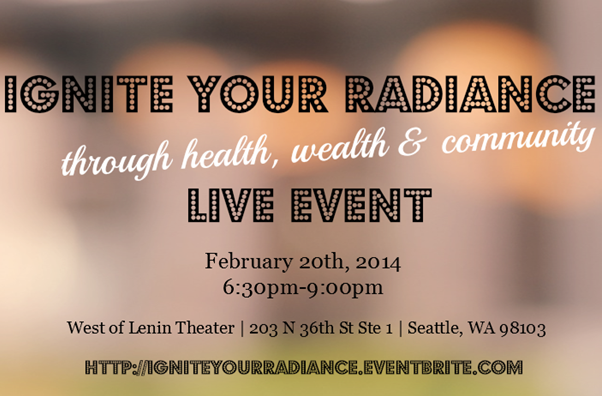 Ignite Your Radiance is an evening where women connect, learn, be inspired, and gain deeper insights on what it means to live a blissful, radiant life (men are also welcome to attend :))

This event is created on the basis that health, wealth and community are interdependent, and when strengthened, allows for sustainability, personal power, a happy, radiant life, and the opportunity to be of greater service to others.
Each speaker will share their stories and experiences of how different aspects of health, wealth and community have impacted them, their life and their work.
In addition, attendees will have the opportunity to connect with each other and get to know one another in deeper ways. Often times, it's easy to come together to complain, gossip, vent...but not here!

We will learn how to upride each other, boost each other's confidence, and learn what it truly means to be in a supportive community of like-minded people, where it's all about collaboration and not competition.
ALL attendees will receive amazing gifts from Compendium, Big Dipper Wax Works, The Grinning Yogi, Urban Leaf, Nia with Susan Tate!

Plus, food + wine included!

Date/Time:
February 20th, 2014
6:30pm-9pm
Place:
West of Lenin Theater
203 N 36th St
Seattle, WA 98103


Event Price: $18*
*Want to receive a discount?
Click here to get your FREE copy of ebook Set Your Own Sail and receive a promo code!

The Speakers

Dianne Juhl, Founder & CEO of The Feminine Face of Money®
Highly sought-after money psychologist, inspirational speaker and entrepreneur Dianne Juhl started her "complicated" relationship with money as a working class farm girl in rural Iowa. Escaping the "poverty mentality" that she grew up with, Dianne struggled and fought her way up the socioeconomic ladder--and got her first lesson in the way money really works when her successful career at Microsoft turned her into an unexpected millionaire.
Today Dianne calls on her experiences as a woman who's been poor, been rich and (and lived through the ups and downs of both) to completely transform the way that women feel about and interact with money for both personal gain and the greater good. Learn more at: www.femininefaceofmoney.com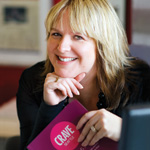 Melody Biringer, Founder of Crave
From strawberry shortcake to home furnishings to a fitness business, Melody has trotted down virtually every entrepreneurial trail in existence. With 23 business ventures under her belt — a few of them even successful! — you might call her a lifelong "start-up junkie." Her current entrepreneurial love-child is Urban Campfire, a movement to create a different conversation, produced by the CRAVEcompany.
CRAVE connects savvy business women through networking events, symposiums and a series of smash-hit city guides. She's always scouting for the next crop of start-up superstars, solopreneurs and socially-conscious capitalists. Author of CRAVING Success: a startup junkies path from passion to profits. Includes 132 tips for ambitious entrepreneurs. Learn more at: www.thecravecompany.com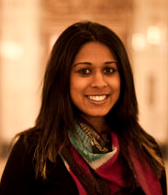 Nadia Mahmud, CEO and Co-Founder of Jolkona
Nadia Mahmud is the co-founder and current CEO of Jolkona. She is passionate about philanthropy and making a global impact and is excited about allowing others to do so easily and effectively through micro-donations through Jolkona's unique approach to giving. Prior to starting Jolkona, she worked in the non-profit sector in Los Angeles promoting social entrepreneurship and financial literacy to inner city youth.
Nadia graduated from UCLA with a BA in Business/Economics and a minor in Public Policy and has a Master in Public Health and Nutrition from the University of Washington in Seattle. In her spare time, she works on global health nutrition research projects, travels, and mentors others interested in nutrition or the non-profit space. Learn more at: www.jolkona.org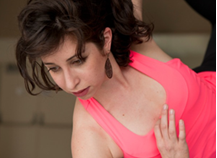 Jamie Silverstein, Owner of The Grinning Yogi
 Jamie Silverstein is a US Olympian, E-RYT 500 and the owner of The Grinning Yogi in Seattle, WA. She has been practicing and studying yoga since her mid-teens when she took her first class as an act of teenage 'rebellion'. It was at this time that Jamie began to revise her relationship with her body using the tools she learned on the mat. And, with the support of professionals and her committed yoga practice, Jamie recovered from an eating disorder and represented the US on the 2006 Olympic Team in Ice Dancing.

Jamie graduated Cornell University in 2008 and in 2010, Jamie developed the karma project BEyoga (Body Empowerment Yoga) that benefits eating disorder recovery which she has brought to eating disorder treatment centers and yoga studios around NY, CT, and WA. Recently, the BEyoga project has expanded into a video series and nationwide movement. Jamie's teaching is celebrated for it's fun and honesty, since Jamie believes in making friends with change through vulnerability and connection. Learn more at: www.thegrinningyogi.com.

Event Creator/Host: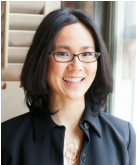 Michelle Wong, Lifestyle + Financial Freedom Strategist, Author of Set Your Own Sail
Michelle Wong – is passionate about teaching women the power of owning their finances and being financially free. She inspires them to explore multiple streams of income through entrepreneurship, while increasing their health, so they can truly live their life's purpose, and give back to the world in greater ways. Michelle created this event: "Ignite Your Radiance", to bring women together and share the message that health, wealth and community are all interdependent and essential to success. Learn more at: www.michellewwong.com
Thank you to our amazing sponsors and contributors!
It takes a village!

 **All proceeds benefit Jolkona Foundation
Quick List/links of donors and contributors
Precept Wine
The Grinning Yogi
Big Dipper Wax Works
The Feminine Face of Money
Compendium, Inc.
CRAVE
Urban Leaf
Nia with Susan Tate
Araya's Vegetarian Place
Rom Mai Thai
Thank you!!

When & Where

West of Lenin Theatre
203 N 36th St
Ste 1
Seattle, WA 98103


Thursday, February 20, 2014 from 6:30 PM to 9:15 PM (PST)
Add to my calendar
Organizer
Email: michelle@nonlinearpath.com for more info