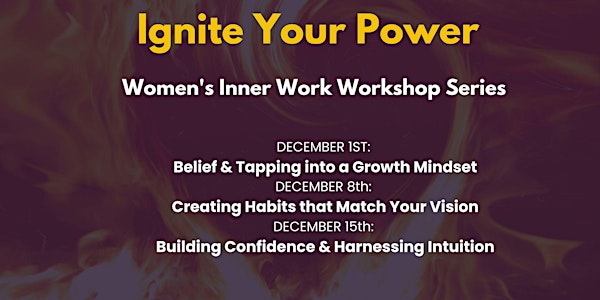 Ignite your Power
Join women from around the world for 3 epic zoom sessions where we dive into tools and practices designed to ignite your inner power.
About this event
Come join this workshop to learn some tools on personal growth. We will have 3 classes you can attend or you can do individual class.
Week 1 -Belief & Tapping into a Growth Mindset- In order to make sustainable change, you must first acknowledge your core beliefs about yourself, your potential, and the world around you. During this workshop, we will work together to uncover some of those beliefs and evaluate if they are serving you in your pursuit towards self actualization or limiting your growth and opportuntiy.
Week 2 -Creating Habits that Match your Vision-We are what we practice. During this 90 minute workshop we will honor the how and why behind our current habits and together, deep dive into practical tools for creating habits that align with our beliefs."
Week 3- Building Confidence & Harnessing Intuition-We will be discussing the benefits of trusting your intuition & building your confidence. Discover some ways you may be holding yourself back and step into your most truest authentic self!